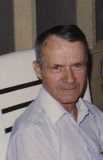 Michael Francis Gately, 95, of Santa Fe, Texas, passed away on January 20, 2015. He was born on September 30, 1919 in West Point, Nebraska to parents Michael and Philomena Gately. He was a member of Queen of Angels Catholic Church in Dickinson, Texas. He served for two years in the Civilian Conservation Corps, then five years in the U.S. Army Air Corps. He was an airplane mechanic during WWII. In 1946, Michael and his brothers started Gately Bros., a small super market in Galveston. Michael was an associate of Gately Bros. until his retirement in 1981. During his retirement he enjoyed welding, working on cars, and trains. Mr. Gately was a resident of Santa Fe, formerly Alta Loma, for over 70 years.
He was preceded in death by his parents, Michael and Philomena Gately, and brothers, Thomas, Vincent, Jack, Jimmy, and Robert.
He is survived by his sister, Agnes McLawchlin; brother, Martin and wife, Dr. Mary Sue Gately; sister-in-law, Ann Gately; and numerous nieces and nephews. The family of Mr. Gately wishes to extend special thanks to Father Stephen Zigrang and Theresa Gately.
Visitation will be held from 5:00 p.m. – 8:30 p.m. with Rosary at 7:00 p.m. on Friday, January 23, 2015 at Crowder Funeral Home in Dickinson, Texas. Funeral Mass will be held at 10:00 a.m., on Saturday, January 24, 2015 at Queen of Angels Catholic Church, 4100 Hwy 3, in Dickinson with interment following at Mt. Olivet Cemetery.