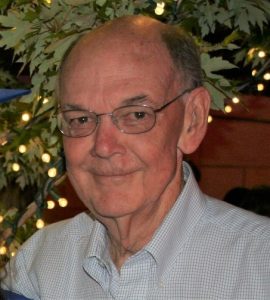 Michael D. Phelps, 80, died peacefully March 29, 2021 at Clearlake Hospital. He was born February 4, 1941 in Durant, Oklahoma to Leon Wyman Phelps and Eleanor (Fry) Phelps.
Mike graduated from Durant High School, Class of 1959. This was the year he would marry his first wife, Margaret Stone, with whom he had three children. In 1962 he was hired by IBM to fix typewriters. He worked his way up the ladder until he retired as Senior Analyst for IBM supporting the NASA program in 1993. During that time, he met his wife Sharon Ryder on a plane ride to Dallas, Texas and they were married in 1979, the same year he graduated from Syracuse University.
Mike is survived in addition to his wife Sharon Phelps by his brother Pat and wife Dot Phelps, sister Jane Phelps, sons David and wife Karen Phelps, Darryl Phelps, his daughter Rai Phelps, and granddaughters Sierra White and husband Chase White, Morgan Phelps and Brianna Phelps.
Mike had many talents and hobbies, many of which kept him outdoors in nature. He loved traveling with his wife, and camping with family and friends. His favorite annual tradition was his "Ph-owell Treks". Every Fall a destination in Texas or New Mexico was selected for him and a small group to go rough it for a week. Big Bend, and the Frio River were his favorite places to camp, hike and fish. He was a lover of art, bird watching, cooking and crosswords and he could beat you in a game of gin rummy any day. He also greatly enjoyed his days spent on the golf course with the Bay Oaks Old Boys. Mike was a hard worker, good friend, and loving husband, father, and grandfather who will be dearly missed by all who knew him.
His memorial service will be held on April 17th, 2:00 pm at Crowder Funeral Home, 111 E Medical Center BLVD Webster, Tx 77598. A reception will follow the memorial service and will be held at The Admiral at Endeavour Marina on Clear Lake, 3101 E NASA Pkwy, Seabrook, TX 77586.
In lieu of flowers please consider a contribution to the American Cancer Society, https://www.cancer.org/