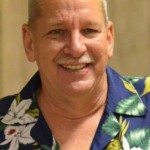 Michael Dennis Guthrie, born June 19, 1956, in Lake Charles, Louisiana, died peacefully in his sleep on Monday, July 7, 2014. He was doing one of his favorite things, leading a group of Boy Scouts on a canoe trip at the Northern Tier High Adventure Base in Canada.
He was preceded in death by his father, Richard "Art" Guthrie, and nephew David Paul Guthrie.
He is survived by his wife of 36 years, Denise Guthrie, his mother, Shirley Guthrie, children and their spouses Tara and Jeff Quick, Eric and Dana Guthrie, and Andy and Dixie Guthrie, siblings and their spouses, Cathy and Roland Buller, Chrissy and Terry Simpson, Pat Guthrie, and Greg Guthrie, and his grandchildren, Nicholas and Lila Guthrie, and another one on the way. He will also be lovingly remembered by his mother-in-law Juevonne Miller, sisters and brothers-in-law Kenny and Jinna Miller, Diana and Troy Leach, Matt and Jennifer Miller, and his nieces and nephews and their spouses Candace Buller, Jordan Buller, Jarrett Buller, Justin and Melissa Squibb, Carlee Simpson, Lee Simpson, Devin Young, Dakota Young, Jonathan Miller, Amber Miller, Matthew Miller, Tracy Tremont, and Kaylaand Brady Cannon. With numerous great nieces, nephews, aunts, and uncles.
Mike was an amazing man who touched the lives of so many people, including the hundreds of Boy Scouts in Pearland's Troop 404 while he served as the troop scoutmaster and an advisor of the Adventure Scout crew for over 28 years. His impact in the community will continue to be felt for many years to come.
Mike's viewing will be held Saturday, July 12 from 10 a.m. to 6 p.m. at Crowder Funeral Home, 2422 Broadway Street, Pearland, Texas, 77581. A reception will follow at the Knights of Columbus Hall, 2320 Hatfield Road, Pearland, Texas, 77581. His remains will be cremated following his wishes.
Memorial contributions may be made to BSA Troop 404, C/O Denise Guthrie, 5418 Bayou Blvd, Baytown, Texas, 77521.