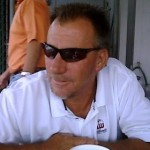 Michael David Weaver, 61, of Webster, Texas, passed away April 10, 2014 after a courageous battle with cancer. He was born July 22, 1952 to Carroll Swink and Dorothy Elwanda Weaver. Michael was a professional golfer playing many courses throughout Galveston and Harris Counties. Michael was a member at Bayou Golf Course, Texas City and Magnolia Creek, Friendswood. He was preceded in death by his parents and by a brother, Joe Mack Gray.
He is survived by his sisters, Judy Quitta and her husband, Wes, Rebecca Guthrie Hall and her husband, J.B., and Carolyn Sue Weaver; Nieces, Shannon Marie Sutton and her fiance, Jake, Katie Renschler and her husband, Scott and Kyncie Tune and her husband, Scott; Nephews, Kyle Telford and his wife, Ginger and Bo Quitta and his wife, Abby; and many special friends.
A visitation will be held in his honor, Monday, April 14, 2014 from 12:00 pm to 2:00 pm, with a Celebration of Life, 2:00 pm, at Crowder Funeral Home Chapel, Dickinson, Texas.
Honored to serve as pallbearers are Pete Castro, Ralph Frazier, Ray Lease, Jimmy Nebout, Jerry Huffman and Rex Caldwell.