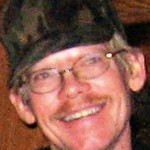 MICHAEL CRANSTON EYERS, age 46, of Houston, Texas passed away on June 2, 2014 after a two and a half year battle with cancer.
Mike was born in Montgomery Alabama and was a Texas resident for over forty years. He graduated from Alief Hastings High School in 1986 and attended Texas State Technical Institute in Waco, Texas. He attained his Texas Apprentice Electrician license and his E.P.A. certification in air conditioning and spent most of his working years as an AC technician and maintenance engineer.
Mike loved family but was a confirmed bachelor explaining he wasn't about to try to top his outstanding nieces and nephews. Throughout life, he had a variety of interests from horseback riding to motorcycling but his passion was fishing. He especially enjoyed surf fishing for sharks at Bolivar Flats on the Bolivar Peninsula.
Mike was preceded in death by his father, Roy Edward Eyers, Jr. and is survived by his mother, Bonnie G. Parker, his stepfather, Gerald W. Parker, his brother, Roy E. Eyers III, his stepbrother, Kenneth E. Parker, and his stepsisters, Jerri Jane Wood and Pamela A. Collings.
Visitation will be held at Crowder Funeral Home in League City Saturday, June 7 from 10.30 a.m. to 11:30 a.m. with a memorial service immediately following.
The family extends special thanks to chaplain Andy DeYoung and Matt Crowder for their kindness and guidance, to Dr. Ojo and the staff and management of Pasadena Care Center, to Heart to Heart Hospice for their care and compassion during Mike's residency and most especially to Dr. Meghan Karuturi for her dedication, constant support and care throughout Mike's battle with cancer.
In lieu of flowers, donations may be made to the American Cancer Society.