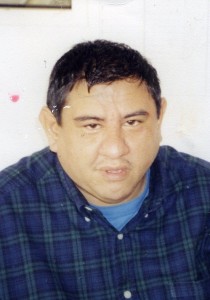 Michael Anthony Cortez, 53, from Dickinson, Texas passed away peacefullyat Seabreeze Nursing and Rehabilitation facility in Texas City on Friday, December 11, 2015 at 10:06 a.m. Michael was born October 6, 1962 in Galveston, Texas. He attended Dickinson High School and graduated in 1985. Michael loved sports, especially the Houston Astros and Dallas Cowboys. He enjoyed watching wrestling and listening to his headphone AM/FM radio with a yellow tablet in his hand to keep up with sports scores. His siblings will remember him best as being a prankster up until the time of his passing. He was a loving son, brother, and uncle. Just like a child, Mike loved his pinatas and holidays, especially Halloween.
Michael is survived by his parents, Bertha and Dan Oakes Sr., siblings Dan Jr.Oakes,David Oakes, and Susan Honicker. He also leaves behind nieces and nephews, Josh Forehand, Jessica Oakes, Emily Oakes, Hayden Honicker, and Peyton Honicker.
A viewing with a rosary following will be held at Crowder Funeral Home in Dickinson on Tuesday, December 15th from 5:00-7:00p.m. A rosary will start at 7:00 p.m. A funeral service will be held Wednesday at 10:30 a.m. at True Cross Catholic Church in Dickinson. Interment will follow at LaMarque Cemetery on Oak Street.
Pallbearers will be Dan Oakes Jr., David Oakes, Mark Honicker, Robert Capetillo, Brenda Scott, and Stevie Mitchell.