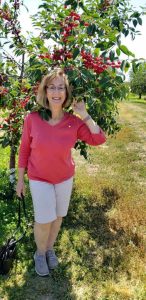 Melinda Ruth McNicoll was a caring wife, mother, grandmother, sister, and friend.  She departed this world on Jun 25, 2023 at age 62.
She was born to Jesse and Ruth Rawlins on July 26, 1960.  After an adventurous childhood in Atlanta, Georgia she pursued an engineering degree at Georgia Institute of Technology and met her husband, William McNicoll.  After graduating, they moved to Houston, Texas. There they had 4 children: Matthew (Sarah), Jennifer (Sean and Monica, granddaughter), Jesse, and Amy.
Melinda was a strong-willed Georgia girl at heart. She raised her children to be kind and generous. To Melinda, few things could beat a cup of coffee with a friend. She loved to hear how people were doing, where they had been, and where they were going. If they were confused about the latter, she usually had more than a few fine ideas for them. Additionally, she loved to host and cook for her family and friends. Volunteering at her church was a common activity, including her years of teaching Bible Drill classes for children. At her core, Melinda was unabashedly inclusive–if you were new to a community, it was not long before Melinda knew and loved you.
Other survivors include her four siblings: Peggy Semmes, Joel Rawlins, Rebecca Davenport, and Angeline Rawlins, as well as their respective families.
Services will be this Saturday, July 1. A family greeting line will begin at 10 am with the funeral service at 11:30 am followed by a reception at University Baptist Church (16106 Middlebrook Drive in Houston, TX).
In lieu of flowers, please contribute to our memorial page at the Pancreatic Cancer Action Network: http://support.pancan.org/goto/MelindaMcNicoll.