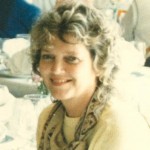 McCullough, Carmie M. passed away on Jan. 19, 2014. She was born on July 14, 1932. She attended High School in Topeka and began college at the University of Arizona, where she met her husband to be for 60 years. They both also attended college at San Mateo in California and were married in Carmel, California in 1953.
Clay soon entered the military as it was during the Korean War and Carmie was now a military wife. She was by his side the rest of her life. Following several posts in the U.S. and the birth of Clay III, they were assigned duty in Hokaido, Japan the northern most Island at the Chitosi AFB. During this time Carmie taught English at Hok Sa, a Japanese girls school.
Later another assignment took them to the southern most Island of KyuShu and to the Ashiya AFB where Carrie Elaine was born. Following this posting Clay decided not to "re-up" so they returned by boat to San Francisco and Clay began a new career with Lockheed Missiles & Space while they lived in San Jose.
A phone call from Texas took her next to Houston/Seabrook when Clay began working for NASA at the yet to be completed Manned Space Center (later renamed the Johnson Space Center). Carmie found a house in the small community of El Lago in Seabrook. It was a block from Clear Lake and housed many JSC space personnel. That was 1963 and it continued to be Carmies home until her passing. During this time Carmie was blessed with 2 grandchildren, Taylor Rene and Colt Collard plus many friends. She loved her work at the Pine Knot Pharmacy and at Stebbins Framing & Art Studio. She loved playing Bridge and belonged to several Bridge Clubs. Carmie also loved to travel with friends. She loved her dogs (especially Labradors), playing the piano, doing very skilled pencil and charcoal sketches and collecting country antiques. All that knew Carmie loved her. She will be terribly missed.
A Memorial Visitation will be held from 2 – 4 pm on Saturday, February 1, at the Crowder Funeral Home in Webster.
Carmies cremains are being sent to the Houston National Cemetery (which is a military cemetery) and her beloved Clay's cremains will join her, at a time to come, for eternity.