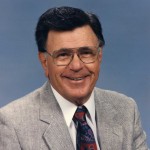 Max Wilson Glazner, 89, of Dickinson, Texas passed away October 18, 2014, in Dickinson, Texas. Max was born August 23, 1925 to Louis C. and Anna R. Glazner in El Campo, Texas. He served his country as a member of the Coast Guard during World War II. Max received his Bachelor's and Master's Degrees in Chemistry from Southwest Texas State Teacher College. After graduating, Max taught chemistry and math at La Grange and Grand Falls, TX. He retired from Monsanto Chemical Company and Krug International at the Johnson Space Center. He was a volunteer at the 1894 Opera House, a 32nd Degree Mason, a member of the Dickinson Police Patrol, an active volunteer at the Space Center Houston and his church. He was also a loyal member of the DOM Coffee Group and the Monday Coffee Group.
Max was preceded in death by his parents, his first wife Virgie Rae Glazner, sister, Doris Summers and brother, Robert Glazner. He is survived by his loving wife , Elaine Glazner ; daughter, Rebecca Nesmith of Houston; Step Daughter, Lana Sanders and her husband, Chris of League City; son, Dale Glazner and his wife, Kimberly of Crosby; step-son, Lonnie Smith and his wife, Diana of Atasacita; sister, Cora Anderson of Fredricksburg; brothers, Dan Glazner and his wife Lula of Victoria, and Ross Glazner and his wife, Sylvia of Pearsall; 10 grandchildren; 8 great grandchildren and numerous nieces and nephews.
A visitation will be held in his honor, Tuesday, October 21, 2014, 5:30pm to 8:00 pm, First United Methodist Church, Dickinson, Texas. Services will be held Wednesday, October 22, 2014, 11:00 am at the First United Methodist Church, Dickinson, Texas with interment following at Forest Park East Cemetery, Webster, Texas. Honored to serve as pallbearers are his grandsons.
In lieu of flowers, donations may be made in his memory to the Memorial Fund at First United Methodist Church, 200 FM 517 Rd. W, Dickinson, TX 77539.