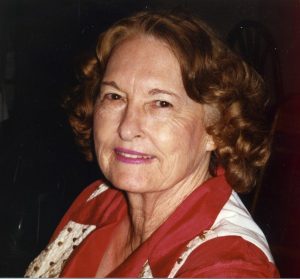 Maurine McMurrey, 97, of Dickinson, passed away October 6, 2022, at her home surrounded by her loved ones. Maurine was born February 28, 1925 to Georgie and Robert Lee Reed in Wortham, Texas. She proudly served her country in the U S Navy and was a veteran of World War II.  Following her enlistment, she worked as a secretary for the Van Vleck ISD and the Dickinson ISD for many years.  Maureen was a loyal member of First United Methodist Church and a member of the church's 55 Plus Club. She also gave of her time to the Dickinson Community Center (Senior Group) and was a distinguished member of the Retired Federal Employees.
Maurine was preceded in death by her beloved husband Robert J. McMurrey, Jr, sister Rosa Lee Coston, and brothers James Reed and R. L. Reed.
She leaves behind to cherish her memory her sons Michael Robert McMurrey and wife Susan, and Lindsey B. McMurrey; grandchildren Melissa McMurrey Braswell and husband Scott, and Benjamin Reed McMurrey and wife Lauren; great-grandchildren Haylie Braswell, Marryn McMurrey, and Ford McMurrey; and many other family members and friends.
In her honor, there will be a funeral service 11:00 am, Tuesday, October 11, 2022 at Crowder Funeral Home Chapel, Dickinson. Committal service will be 2:30 pm, Tuesday, October 11, 2022, Roselawn Memorial Park, Van Vleck, Texas.
Honored to serve as pall bearers are Ben McMurrey, Scott Braswell, Mark Heald, Jay Harvey, Stephen Harvey, Mike Hickey, Mike Gilbert, Brandon Gilbert, and Michael Lee Gilbert.