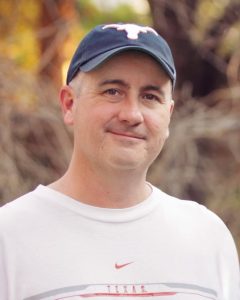 Matthew David Garcia passed away on February 15, 2023 in San Antonio, Texas at the age of 51. He was born in Tampa, Florida on November 29, 1971 to Paul H. Garcia and Tera Johnson-Garcia.
Matt was a wonderful husband, father, brother, son, uncle (aka Gunkle Matt) and friend. He truly was a gentle giant who enjoyed the simple things in life. Matt loved floating the Comal and Guadalupe rivers and long days on the beach with his Bluetooth speaker and a cold one in-hand. He thoroughly enjoyed live music and concerts, especially big hair bands (Motley Crue anyone?) and country music. Matt especially enjoyed relaxing with family and friends, smoking briskets, frying turkeys (and eating them too), watching sports and smoking cigars around the fire. He could often be found watching his beloved Pittsburgh Steelers and Houston Astros, flying off to Las Vegas to bet on the Sweet Sixteen and hunting with family. Matt exceled for 24-years in his professional career in the transportation industry; he was always at the top of his game. He truly admired everyone he worked with and they him. Matt prided himself on his work ethic and that of his team. His branch has repeatedly been awarded Branch of the Year.
Matthew is preceded in death by his paternal grandmother Dora Perez, maternal grandmother Melva Johnson Kirschner, aunt Jacque D. Johnson, uncle Thomas R. Johnson and cousin Andrew D. Garcia.
Matthew is survived by his wife Meredith Garcia, their son Daniel F. Copeland Jr.; sister Amanda G. Garcia-Glass, her husband Richard P. Glass, their sons Gage P. Glass, Richard P. Glass and Carson F. Glass; brother Michael P. Garcia, his wife Emily M. Garcia, their sons Weston M. Garcia and Tyson D. Webb; sister Kimberly F. Garcia; his parents Tera Johnson and Paul H. Garcia; and multiple extended family members.
Celebration of Life services will be held at 10:00 am on March 4, 2023 at Crowder Funeral Home,
111 East Medical Center Boulevard, Webster, Texas 77958
followed by a celebration from 11:00 am to 2:00 pm at Esteban's Cafe y Cantina,
402 West Main Street, League City, Texas 77573.