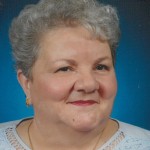 Mary Wheatley 80, of Livingston passed away on November 8, 2014 at UTMB in Galveston, Texas. She was born June 17, 1934 in Brooklyn, NY to Najeeb and Tamam Dahir.
Mary was a member of the First United Methodist Church in Livingston, was very active in the church where she loved to cook for the Wednesday community meals and worked with the church's Crafty Ladies Group. She was a member of the Red Hat Society, DMA (Don't Mention Age Traveling Club), loved to take cruises and she loved to host the Wine Club.
She is preceded in death by her parents, her husband Milton McPhearson Wheatley, sister, Josephine Hylton and brothers Stanley Dahir and George Dahir.
She is survived by her daughter, Christina Martin (Paul) of Santa Fe, TX; sons, Douglas Wheatley (Janice) of Gloucester, VA, Kevin Wheatley (Karen) of Jewett, TX, Lawrence Wheatley (Tyra) of Texas City, TX, and Andrew Wheatley (Lori) of Springfield, OR; brothers Mitchell Dahir and Tommy Dahir; fourteen grandchildren and seven great grandchildren.
The family would like to say a special thanks to the UTMB staff for the wonderful care of their mother.
A Memorial service will be on held on Tuesday, November 11, 2014 at 11:00am at the 1st United Methodist Church in Livingston, Texas with Pastor James Frazier and Pastor Steve Woody officiating.
Visitation will be Wednesday, November 12, 2014 from 10:00am – 12:00Noon at the James Crowder Funeral Home in La Marque. Funeral Service will be 12Noon on Wednesday, November 12, 2014 at the funeral home with Dr. John Wheatley officiating. Burial will follow at Galveston Memorial Park in Hitchcock, Texas. In lieu of flowers donations may be made to the 1st United Methodist Church P.O. Box 1638 Livingston, Texas 77357.