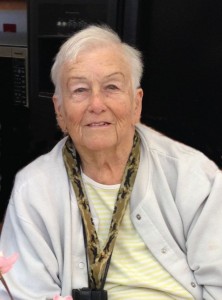 Mary Mozelle Franklin of Texas City passed away from this life at the age of 87 on March 16, 2016. Mozelle was born October 6, 1928 in Jack's Crest, Tennessee.
Mozelle was preceded in death by her parents, Buford and Susie Barton, her husband Loyd "Buddy" Franklin, a son Steve, her daughter Debbie, and her granddaughter Kristy.   She is survived by; sons and daughters- in-law: Mike Franklin and wife Betty, Tim Franklin and wife Margie; grandchildren Rob Franklin and wife Amy, Jennifer Herrington and husband Zane, and Buddy Franklin; great-grandchildren Malinda Franklin, Sam Franklin, and Arthur Herrington; along with numerous other nieces, nephews, family and friends.
Mozelle spent her early years in Kilgore, Texas. It was there, while working at a soda fountain that she met the man she would marry and spend the rest of her life with.
While she did work some while her children were at home, most of her adult life was spent caring for her children, and then doing her very best to show her love and care to her grandchildren. After their retirement, she and her husband Buddy began to volunteer in some of the State Parks of Texas, especially at Brazos Bend State Park, there they received recognition as outstanding volunteers, and recently she was honored as being the longest serving volunteer at that park. She had been a member of Northside Baptist Church.
Visitation will be on Sunday, March 20, 2016 from 2:00pm – 4:00pm at the James Crowder Funeral Home in La Marque.  Funeral Service will be at 4:00pm on Sunday with Rev. Tim Franklin pastor of The Connection Church in Texas City.
The family would like to express our gratitude to the staff of Bayou Pines Care Center and to A*MED Hospice for their care during her last days of life.