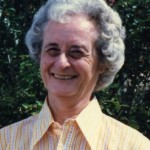 Mary Magdeline Mitchell, 89, of Dickinson, passed away July 12, 2014 in Pasadena, TX. Mary worked for Bonura's Grocery, Pollestrini's Minimax, Salvato's Shoes, Beall's Department Store, Allen's Food King, and Baywood Grocery before finally retiring at age 85. She is preceded in death by her husband of forty years, Joe Mitchell, her sister Frances, and her brother Edward.
She is survived by her son, Charles (Chuck) Mitchell; and Special niece Gayle Perkins.
A visitation in her honor will be held Wednesday, July 16, 2014, from 5:00 to 8:00 pm, Crowder Funeral Home Chapel, Dickinson, TX with a rosary at 7:00 pm. A funeral mass will be held Thursday, July 17, 2014, 10:00 am, at Shrine of the True Cross Catholic Church, Dickinson, TX with interment following at Mt. Olivet Catholic Cemetery, Dickinson, TX. Serving as pallbearers will be Ross Mitchell, Robert Humphries, Aron Mitchell, Chris Mitchell, Vincent Liggio, and Michael Liggio. Honorary pallbearer will be Kenneth Mitchell.