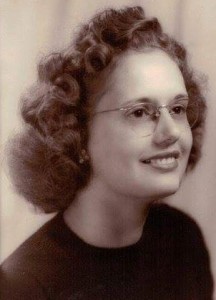 On May 27th, 2016, Mary Lou Owen Hampton went home to the Lord where we are sure she was greeted with joy by her beloved husband of 68 years, John D. Hampton, her parents, and siblings.
Mary Lou Owen was born in Silver Valley, TX, on December 13, 1923, the fifth child of Hersey and Estelle Owen. Her sisters and their spouses were Ira and Rowdy Carter; Ineta and Theo Armstrong; Georgia and Clyde Orr; and Wanda and Ken Knight. Her brother was Roy Carlos Owen. Mary Lou is Survived by two daughters, Deena Hampton and Carla Bakri and husband, Mahmoud Bakri; one son, Wade Hampton; four grandchildren, Tarik Bakri and wife, Stacy; Deena Shareen Bakri; Brittany Loval and husband, Mark; and Kasi Hampton; and two great-grand sons, Travis and Brady Bakri. As an Air Force wife and later as a wonderful first grade teacher and all around exceptional mother, she provided a secure and loving home for her husband and children all over the world. Mary Lou lived a life of unshakable faith and service to the Lord. She was always the rock of her family and we will miss her every day until the day we meet again.
A visitation will be held 2:00 – 3:00 PM, Saturday, June 4, 2016 at Clear Lake Baptist Church, 15700 Space Center Blvd, Houston, TX 77062.  The Funeral Service will begin at 3:00 PM.  Mary Lou will be Interred with her beloved husband, John, at Arlington National Cemetery at a later date.