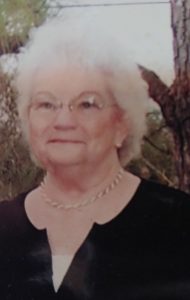 Mary Laverne Wheeler, 81, of Dickinson, Texas, went to be with Jesus, the evening of Sunday, November 3, 2019.
Mary was born on December 16, 1937 to her mother Fannie Lee Voyles and her father R.C. Wilkes in Unadilla, Georgia.
Mary was preceded in death by her loving husband David Randall Wheeler, her parents, Fannie Lee Voyles, her father R.C. Wilkes, her daughter Diana Erwin, her sisters, Frances and Nancy, brothers, R.C., Dalfus, Lonie, George, and Pete.
Mary is survived by her son Kennith Wheeler and his wife Cynthia Wheeler. Grandson Keith Erwin and his wife Sarah Erwin; granddaughters, Brittanie Pate, Hannah Wheeler and her fiancé David Matthews, Shaina Erwin, Georgia Simon and MaKenna Wheeler; great-grandchildren, Dominic, Bailee, Paislee, Malachi. And Winter; sisters, Annette and Jeannette; brother, Junie; numerous nieces and nephews.
Mary loved spending time with her family, her grandchildren were the center of her world. She loved serving the Lord.
Mary had been battling Alzheimer's Disease for 13 years.
She will be greatly missed by so many.
Visitation will be held Thursday, November 7, 2019 from 6-9pm, at Crowder Funeral Home in Dickinson, Texas.
Funeral services will be held Saturday, November 9, 2019 at 10 AM at West Bay Assembly of God, 3607 FM 646 Rd. E, Dickinson, Texas 77539.
Interment will follow at Hayes Grace Memorial Park in Hitchcock, Texas 77563, then returning to West Bay for fellowship.