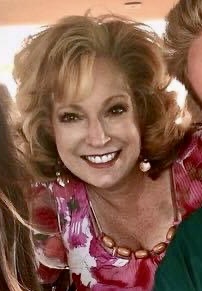 Mary Jo Godinich brought so much joy, laughter and unconditional love to all. On August 1st, 2022, Mary Jo passed from this earthly life and was greeted by her parents and so many other loved ones at the gates of Heaven. What do you say about someone who was so much to so many? Mary Jo was the definition of a faithful servant. She loved her family fiercely and was everybody's "one phone call." She had the most infectious laugh and hugs that soothed any troubled heart. She radiated love. She was an amazing friend, sister, co-worker, and all-around person. As a nurse, she spent her life's work taking care of others. She had many titles; Nana and Maimee being just two. But her favorite title was always "mom." Her children were the true loves of her life.
Born December 22, 1965 in Galveston, Texas to James and Joyce Heffernan, she was a very proud Galvestonian. She graduated from O'Connell High School, where she was crowned homecoming queen, in 1983. She attended nursing school at The University of Texas Medical Branch in Galveston, where she graduated with her Bachelor of Science in Nursing in 1991. She started her career as a Labor and Delivery nurse and has also worked as a nurse consultant, school nurse, director of case management and most recently, a regional quality nurse.
Survived by her son: Joseph Aloysius Godinich III, daughter: Caitlin O'Neal, son-in-law: Jordan O'Neal, granddaughter Harper O'Neal, brothers: Kelly Heffernan (Tammy), Jim Heffernan (Carrie) and Sean Heffernan. Her second mom: Eileen Townsend, sister-cousins: Flo Adkins (Paul), Beth Yorlano (Andy), brother-cousins: Joe Townsend (Tyann), Zach Townsend (Luna) and aunt: Kathy Pero (Mike). Her nieces and nephews include Dominic Yorlano, Ryan Heffernan, Blaine Heffernan, Riley Heffernan, Kellyn Heffernan, Heather Kuehl, Peyton Goodwin, Aubrey Goodwin, Colton Adkins, Jake Townsend and Owen Townsend. She leaves behind countless other family and friends, who considered Mary Jo part of their family, like her bonus sisters, Monica Bear and Terry Seagroves.
Services will be held Saturday, 8/6/2022 at Crowder Funeral Home (WEBSTER LOCATION) at 111 E. Medical Center Blvd in Webster, TX 77598. The visitation will be from 11 a.m. – 1 p.m. with the service beginning at 1 p.m. A celebration of life will be held immediately following the services at La Brisa Mexican Grill, 501 N. Wesley Dr. in League City, TX.
If you would like to send flowers, please contact Bennett Floral in Galveston, TX (409-763-8622). In lieu of flowers, Mary Jo and her family request that any donations be sent to MD Anderson Cancer Center or St. Jude Children's Hospital.