Mary Eugenia Knight Kimzey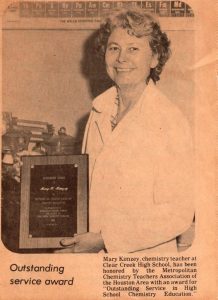 Mary Eugenia Knight Kimzey, age 96, passed away on February 21, 2022, at her home in Houston, Texas.  She was born March 23, 1925, in New Orleans, Louisiana to Eugenia Gladys Bonney and William Edward Knight.  Her husband, John Howard Kimzey died August 30, 2004.    Her grandson, Jack Harrison Kimzey died August 4, 2006, and her grandson Michael Edward Moran died April 21, 2012.  She is survived by her daughters, Carol Moran, Kaye Kimzey and Ginny Kimzey, her son, Bill Kimzey, her sister, Billie Barnes, and grandchildren Ari Branson, Libby Kimzey and Claire Gorsich and great-grandchildren, Callie, Camden and Conor Branson. and numerous other family members and friends.
Mary graduated from McMain High School in New Orleans, Louisiana in 1941 where she was voted "Brightest" earning medals in Latin, Mathematics and Science.
September 27, 1944, she married Ensign John Howard Kimzey at St Charles Avenue Baptist Church in New Orleans, Louisiana.
In 1944 She earned a B A degree in Chemistry from Sophie Newcomb College of Tulane University where she was a member of Kappa Alpha Theta sorority.  In 1959 she earned an M S degree in Dairy Science from Virginia Polytechnic Institute.  She also attended University of Houston and earned a M S Education.
She taught elementary school in Norfolk Public Schools in Norfolk, Virginia.  She taught high school Chemistry at Clear Creek High School in League City Texas. 1965 to 1995.  In 1968 she reported to the Spaceland News Citizen "Every today is important …Make the most of NOW, to do your best job and to equip yourself to do a better job next time.  Don't pass up an opportunity.  Each individual person is important in the scheme of things and will make his own contribution."
In 1957 she was inducted into Phi Sigma Society, "Devoted to the Promotion of Research in the Biological Sciences"
In 1972 the  National Science Teachers Association and The National Aeronautics and Space Administration presented her with an "award in recognition of her student's proposal for an experiment judged worthy of inclusion on Skylab"
In 1982 the Metropolitan Chemistry Teachers Association of the Houston Area awarded her for "outstanding Service in High School Chemistry Education.
In 1986 She received the T. P. Weir Award for Teaching Excellence in the Field of Science.
Mary was a member of Nassau Bay Baptist Church, American Association of University Women, League of Women Voters and Clear Creek Association of Retired Teacher.  She loved gardening, reading, traveling and spending time with her grandchildren.  Throughout her life she volunteered in Girl Scouts, Cub Scouts, church-related youth programs, Hermann Hospital, garden clubs and PTA.
In lieu of flowers, please consider making a donation in memory of Mary Kimzey to: