Mary Elizabeth Wilson Funkhouser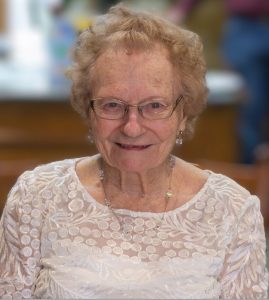 Mary Elizabeth Wilson Funkhouser of Clear Lake City died on October 16, 2022, at the age of 92 in the home she shared with her husband of 58 years, Terry Funkhouser.  She is survived by her daughter Linda Funkhouser of Galveston, granddaughter Katie Bagwell and husband Jake of Earth, Texas and grandson Kirby Crumpler of Galveston; her son Jim Funkhouser and wife Shanna of Galveston and grandson Jake Funkhouser of Galveston; and nephew Jim Murrian and wife Julie of Florida.  Mary was preceded in death by her husband Terry, her parents, older sister Dorothy Ann Perkins and younger sister Evelyn Murrian and husband Jack.
Mary was born on January 12, 1930, in Knoxville, TN to Elmer and Pernye Wilson.  She was named after her Aunt Mary to whom she was very close.  She had fond memories of the community she grew up in, playing at the community tennis court and croquet in the backyard with neighborhood children.  Her family moved to Fountain City her freshman year of high school, Mary only agreeing to move with the promise of her dad buying her a Welsh pony named "Nickey".  Throughout her high school years, she played the violin in the school orchestra & the Knoxville Symphony Orchestra during her senior year.
After graduating high school, she attended the University of Tennessee to study business administration. She lived at home during this time, riding 2 buses to and from the university.  She joined the Phi Mu Sorority and made many lifetime friendships.  After graduating from UT in 1952, she was offered a job with Tennessee Eastman in Kingsport, TN and moved away from her family for the first time.  After 5 years, she was promoted to Office Assistant for the Plastics & Chemical division in Houston.  Her mother drove to Houston with her to help her with the move.  Mary was very shocked to find everybody in Houston wore western attire from head to toe but learned that she just happened to move during the Houston Rodeo and Houstonians normally dressed the same as people did back in Tennessee.
Mary joined St. Paul's Methodist church, enjoying the "coffee club" singles group and square dance lessons where she met the love of her life, Terry.  She was attracted to him initially because they were both shy.  Even though he was 6 years younger she found Terry to be very mature, kind, polite and shared great conversation.  They were engaged a year later and were married on December 28, 1958, in her hometown of Knoxville.  Mary recalled their first marital argument revolved around Terry's love of serious bridge playing, as Mary had to learn how to talk and play bridge at the same time.  Their family laughed about this as they both loved playing games as testament to how compatible and in love they were.
Terry & Mary bought their first home and spent 27 years in La Porte, TX while raising their children Jim and Linda.  She absolutely loved being able to raise her kids as a stay-at-home mom, spending her days as room-mom, sewing clothes for Linda, and keeping a beautiful home for the family.  While living in La Porte, she enjoyed square dancing with her husband as members of the Robinhood Spin-N-Wheels Club, making many lifelong friends.  She enjoyed their annual family vacations to visit her mother in Knoxville and Terry's parent's farm in Southern Illinois.  Domino games of "42" in the front yard of the farmhouse were constantly in progress.  Mary loved playing games with her family and continued to do so until the day she died.
Terry & Mary built their dream home and moved to Clear Lake City in 1987.  They joined Clear Lake Methodist Church & were charter members of the Voyagers Sunday School Class. Mary was very active in the United Methodist Women's group, and enjoyed water aerobics classes, quilting, knitting and embroidering.  After Terry retired, they enjoyed traveling with the 55 & Better group.  She loved planning vacations with Terry and traveling the world together.  Their favorite place of all were the Smokey Mountains outside of Knoxville, where they visited every year.   Mary was famous for her chocolate chip cookies referred by all as "grandma cookies".  When Hurricane Ike was approaching, she didn't want to leave without making a fresh batch for her nephew in San Antonio!
Mary continued to enjoy life after Terry's passing, looking forward to more trips to the Smokies and visits from her kids and grandkids.  She was blessed with the world's best neighbors and enjoyed living in her home while paying constant attention to the landscaping and keeping up with home decorations as the seasons changed.
Mary was a devout Christian with a strong faith in God, believing that she was very blessed throughout her life and would one day have a perfect life with God who would forgive her of her mistakes.
A celebration of Mary's life will be held January 28th at 3:00 pm in the sanctuary of Clear Lake Methodist Church, 16335 El Camino Real, Houston, TX 77062.  A reception will follow.
In lieu of flowers, the family requests donations be made to a charity that Mary was excited and passionate about:  Everybody's Place Community (www.everybodysplace.net), sponsored by Pastor Paul Clines and his wife, Tracey.  Condolences may be sent to Mary's family in care of Crowder Funeral Home at www.crowderfuneralhome.com.