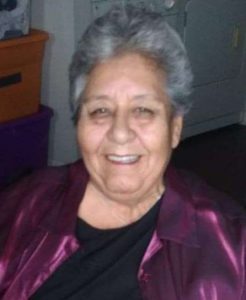 Mary Diana Graybill, 70, of League City passed away on Monday, September 14, 2020 in Conroe, Texas.  She was born August 21, 1950 in Harlingen, Texas to Roberto and Adela Garza.
Diana enjoyed cooking, dancing, and being a wonderful Mom, Aunt, and Grandma playing with the little children.
Diana is preceded in death by her parents; husband John Wayne Graybill and brother Fedrico Garza.  She is survived by her daughters: Teresa Colombo (Kris), Marie Black (Jim) and Monica Delano (Nicholas); sister Betty Bradfield (Troy); brothers: David Garza (Marsha) and Bobby Garza (Carol) grandchildren: Jay, Josh and Francessica, her great grandchildren: Stacy, Hunter, Mayci and Kota and numerous nieces and nephews.
A visitation will be held on Friday, September 18, 2020 from 10:00am – 10:30am at the Crowder Funeral Home, La Marque with the service at 10:30am.