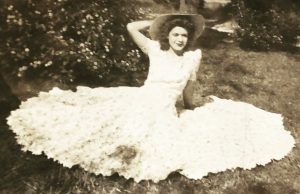 Mary Ann Mora Hunt, a longtime resident of Dickinson, Texas, passed away peacefully on Sunday, September 18, 2022, in Orange, Texas. She was 97 ½ to the date.
Mary Ann, the youngest of seven siblings, was born to her beloved parents, John Gerald Mora and Amelie Aillet Mora on March 18, 1925, in LaMarque, Texas. She loved her childhood with her brothers, James and Joseph, even though it took place during the Great Depression. Her older siblings, John Patrick, Gerald, and Dolores, were an important part of her life, as well. Her family lost her brother, Lawrence Anthony, and a sister, Rowena, when they were children.
Mary Ann was one of the most avid sports fans you could ever meet. If two Houston sports teams (Astros, Rockets, and Oilers) were playing at the same time, she would tape one of the games so that she could watch it the next day. Her grandchildren fondly recall the voice of Milo Hamilton constantly on the radio as Mary Ann listened to Astros games during the hot summer days. Her sport analysis was astute, as well. While watching the Rockets once, she said, "I would like to see them take more perimeter shots and try to stay out of the paint."
Mary Ann was a stellar tennis player and cheerleader at LaMarque High School. She wanted to play tennis at college but her parents wanted her to stay close to home. She attended Business College which prepared her for her only job – forty-one years at Standard Oil of Indiana, which became American Oil, and finally B.P., all in Texas City. She was at work on the day of the Texas City Disaster, still the largest industrial accident in American history, which killed hundreds. That day, she had finished taking stenography and had just left the room, when the windows in the office imploded from the explosion. Her cafeteria became a morgue.
In 1950, she married and moved later to Dickinson, Texas, where she was a member of Shrine of the True Cross Catholic Church for 66 years. She volunteered with the church's St. Vincent de Paul Society chapter to help people in need until her late eighties. Helping others was her true passion. Mary Ann was also a thirty-plus-year member of Catholic Daughters, whose members kindly remembered her during her bout with dementia.
Mary Ann enjoyed making a joyful noise with her large, extended, fun family. She was an amazing single Mom to her daughter, Terese. She enjoyed knowing and watching all the great NASA Dickinsonians who put a man on the moon. Mary Ann later met and married the love of her life, Ronald "Chick" Hunt, and they enjoyed many adventures together. She was very meticulous and organized, and was a person of incredible faith and never entertained gossip.
The family wishes to thank the living saints who were her caregivers during her last years. The nurses, Hospice, the caretakers – thank you for being the hand of God.
Mary Ann is survived by her daughter, Rowena Terese McKee, and husband "Tad" Clyde, of Orange, TX; granddaughter Emily McKee Mellen and husband, Austin, and awaiting a new great-granddaughter, of Orange, TX; and grandson Robert McKee, with whom she shared a birthday, and wife, Sarah, and great-grandson, Colbin, of Austin, TX. She is also survived by many beloved Aillet and Mora nieces, nephews, and cousins.
In her honor, a rosary will be held on Friday, September 23, 2022, at 10:00am at The Shrine of the True Cross Catholic Church (300 FM 517 Rd. East, Dickinson, TX, 77539), followed by a funeral mass at 10:30am.
Interment will follow at Mt. Olivet Catholic Cemetery, Dickinson, Texas.
Honored to serve as pallbearers are Ted Mora, Henry Mora, Randy Mora, Brady Mora, Robert McKee and Austin Mellen.
If interested in making a donation in Mary Ann's memory, her favorite was charity St. Vincent de Paul  (Address: 300 FM 517 Rd. East, Dickinson, TX 77539).