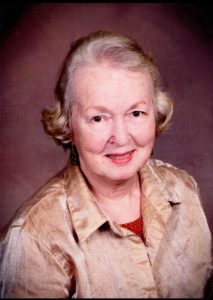 Mary Ann Goodwin (83) of La Marque, Texas, passed away at her home on Thursday, October 20, 2022. She was born in La Grange, Georgia on August 16, 1939 to Mary Malissa and Harmon Douglas Waldrep.
Mary had been a resident of La Marque since 1971 and was a faithful member of the St. Michael's Episcopal Church. She worked as a Software Program Manager for NASA and other contractors until retirement. Mary was a scholar and her knowledge was vast; she enjoyed attending classes and learning new things.
She is preceded in death by her parents and her husband, Don C. Goodwin. Mary is survived by her two sons, Clute Goodwin and Chad Goodwin and his wife Michelle Goodwin; brother, Al Waldrep; two granddaughters, Lauren Goodwin Velma and her husband Roger, and Haley Goodwin and her boyfriend Aaron Daly; and one great grandson, Adonis Daly.
My Eternity
I like being at the beach when no one is near.
I like seeing lines of black skimmers, evenly spaced beads
On invisible air-born chains, curve up, dip down,
shifting sine curves confidently skimming the Great Surface.
I like watching the willful water swell, surge.
I like seeing it reach me again and again…
Perpetually practicing for my journey to Infinite Forever.
Sometimes the waves slide across the sand shushing sound,
depositing peace, reluctantly retreating.
Sometimes they whimper, yearning for my company, whining at their failures.
Sometimes they crush each other, beat the beach, wail, wearied by waiting.
No Need. Patience.  Friends.