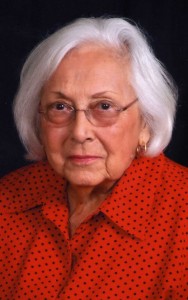 Mary Ann Fredieu Gongre, passed away on Tueday, June 2, 2015.  She was born in Campti, Natchitoches Parish, Louisiana, to Edward Fredieu, Sr., and Mena Maricelli Fredieu on November 20, 1927.
A memorial visitation will be held Friday, June 5, 2015 from 6:00 to 8:00 pm, with a vigil prayer at 7:30 pm, Crowder Funeral Chapel, Dickinson, Texas. There will be a funeral Mass on Saturday, June 6, 2015, at 10:30 a.m. at Shrine of the True Cross, Dickinson, Texas.
A private burial will take place in the future at Mt. Olivet Catholic Cemetery.
Mary is survived by her daughters, Ann Cowan, Michele Gongre, and Renee Parker and husband Jim; sons, Gary Gongre and wife Connie, David Gongre and wife Sue, and Richard Gongre; sister, Betty Morgan; twelve Grandchildren and ten Great Grandchildren.
Special thanks to her children who took care of her, son Gary and wife Connie, David and wife Sue, Renee and husband Jim, and granddaughter Mary and husband Ricky Allison.
She was a retired RN and worked in the medical field for years.
She also volunteered at Point of Light Clinic and Shrine of the True Cross Church for many years.
A reception will follow the Mass in the Multi-Purpose Room.