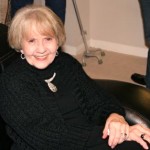 Mary Alice Driehs, devoted wife and mother, passed peacefully on Tuesday, February 4, 2014. She was born May 10, 1934 in Wichita Falls, Texas to Bertha and E.A "Dave" Davis. Mary graduated from Vidor High School and attended the University of Arkansas.
She married her life-long love, Fred Driehs on December 17, 1954. She was a devoted wife, mother, and grandmother and she will be missed every day. She touched many lives with her love and words of wisdom. Mary had a strong faith in God and was a member of Gloria Dei Lutheran Church, where she served in outreach and recovery programs. She loved to travel, read, and celebrate life with her family.
Mary is preceded in death by her parents, Bertha and Dave; her sister Jody; and her husband, Fred.
Mary is survived by sons Rick Driehs, Steve Driehs, and his wife Debbie; daughters Valerie Driehs and Robert "Bob" Hudson, Tracy Driehs and her husband Mark Slator, and Suzy Wilson and her husband Kyle; her grandchildren Stephanie Longrigg and her husband Mark, Jennifer McHone and her husband Shawn, David Driehs, Carissa Driehs, Sierra, Summer, and Sloan; and great-grandchildren, Zach, Avery, Tristen, Kindle, Faith, and Jake.
A Memorial Service will be held at 10 am Saturday, February 8 at Gloria Dei Lutheran Church.
Mary's final resting place will be with her husband, Fred at the Houston National Cemetery on Veteran's Memorial Drive.
Memorial donations may be made to the Gloria Dei Memorial Fund.
The family would like to thank Baywind Village for their excellent care and compassion, where her dignity was always a priority. We would also like to thank Faith Community Hospice for their care and support in her final months on earth.