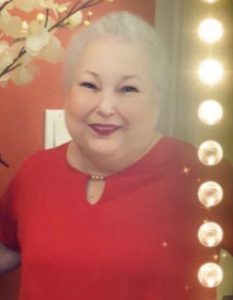 Mary James born June 1st, 1949 in Owensboro, Kentucky. She passed away on February 22nd 2021 surrounded by her family. Mary lived in League City and was the owner of Essential Hospice.
She is preceded in death by her husband William "Bill" James; son Bradley James; parents Athel and Irma Day; sisters Ruby Day, June Moore, Margaret Dean and Corrina Day.
Mary is survived by her daughters Brandy Liss and Kathleen James and Kathleen's fiancé Presley Branham, her son Travis James and his wife Jody James and eight grandchildren, Cameron, Kaylee "Marshall", Hayley, Noah, Kaitlin, Jordan, Christian, Aidan and of course her favorite child, her beloved fur baby-Mr. Zeke E. Doodle.
Mary was well known in the community and many know her as the previous owner of The Arms Room. If you have lived in League City long enough you may have run into Mary at the local Chevron station getting lotto tickets and sharing her smiles-she was one lucky lady!
Mary was a MacGyver in the kitchen, she could whip up a meal with nothing more than peanut butter and a toothpick and make it delicious—unfortunately, this was not a trait passed on to her children. When Mary was cooking, no one went hungry and everyone raved about what a great cook she was.
Mary had a calling and was truly an angel here on earth, she was an amazing nurse and hospice provider. She cared for others with compassion and grace and worked with a team of angels that cared and loved as much as her.
Mary was truly a pillar in the community and leaves behind quite the legacy. She was no stranger to anyone, and everyone knew her as MawMaw.
Visitation will be 9:00 am with a funeral service at 10:00 am on Saturday, February 27th, 2021 at Crowder Funeral Home 851 FM 517 Dickinson, TX 77539 with Chaplain Mark Downs officiating. Reception at 12:30 pm at Essential hospice located at 450 N. Texas Avenue-Suite A Webster, TX 77598. Mary will be buried at Veterans Memorial Cemetery with her husband Bill and son Brad on March 10th.