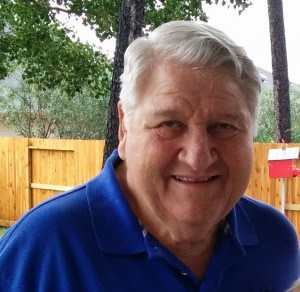 Marvin Raymond Huegele passed away Saturday, July 8, 2016 at the age of 77. He was born October 24, 1938 in Alfred, TX.
He is preceded in death by his parents, Earnest and Anna Huegele Sr.
Mr. Huegele is survived by his wife of 51 years, Kathryn Huegele; children: Kevin Huegele, wife Joann, Randy Hugele, wife Karin, Jennifer Campbell, husband Kevin and Julie Tillman, husband David; grandchildren: Justin Campbell, Indah Huegele, Lauren Campbell, Dwight Tillman, Collin Huegele, Travis Tillman, Alana Tillman and Ariana Huegele; brothers: Ernest Huegele Jr., wife, Sharon, Herbert Huegele, Walter Huegele and Martin Huegele wife, Theresa.
Marvin had many jobs and experiences that made him the man we all loved. He started his life working on his parent's farm alongside his brothers.  At the age of 16 his first job was helping to build the Lutheran church in Alice, TX.  He served our country in the US Air Force from 1960-1963.  Since then he worked for an electric company, Gas Company, missile sites in the Rocky Mountains, aircraft manufacturing, dairy creamery, and recreation vehicle maintenance.  He found a job that combined all his knowledge in construction and maintenance.  He worked for HEB for 22 years until his retirement. Marvin married the love of his life, Kathryn Huckle, in August 1, 1964.  They had four children and eight grandchildren.  He loved spending time with his family and friends.  He enjoyed swimming at the family lake house and Frio River, camping, barbecuing, and could not get enough of trains.
A memorial service will be held on Friday, July 16, 2016 at 12 noon at Crowder Funeral Home in Pearland, TX.
Please keep the family in your thoughts and prayers,  and join us for fellowship following the memorial service at Gringos Mexican Restaurant, 2202 Broadway Street.