Martha "Marti" Thibodeaux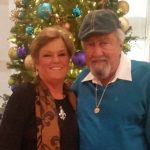 Martha "Marti" Thibodeaux, a loving wife, mother, and sister died on May 3, 2023, in Clear Lake, Texas, at the age of 65. She leaves behind a legacy of love and kindness.
Marti was born on September 9, 1957, in Monticello, Mississippi, to Roy and Frankie Wilson.
For the past 27 years, Marti poured her heart and soul into her craft business, Kajun Krafters, located in League City, Texas. She enjoyed imparting joy into the lives of others through her crafts.
While Marti faced her fair share of challenges, she always found strength in her loved ones. She was preceded in death by her beloved husband, Carroll, her mother, Frankie, and her father, Roy. Though the loss of these cherished individuals weighed heavily on her heart, she carried their memories with grace and dignity.
Marti is survived by her son, Sean Thibodeaux (Vanessa). Additionally, she leaves behind her step-daughters Jan Taylor (Doug) and Mary Thibodeaux (Brian), step-son Bryan Thibodeaux (Angelia), sister Pat Payne (John), and brother Gordon Wilson (Cindy). She is also survived by her many friends who became extended family throughout her life. Marti's warm presence and genuine care for her family will be greatly missed, but her spirit will live on in their hearts.
Marti had a special place in her heart for her three loyal companions, Rusty, Dixie, and Prissy, her beloved Boston Terriers. These furry friends brought immeasurable joy and companionship to her life.
A memorial service celebrating Marti's life will be held on Sunday, June 11, 2023, from 3:00-5:00pm at James Crowder Funeral Home, located at 1645 East Main Street in League City, Texas. It will be an opportunity for friends and family to gather, share stories, and pay their respects. She will be interred with Carroll in Thibodaux, Louisiana.
In lieu of flowers, the family kindly requests that donations be made in Marti's name to the Boston Terrier Rescue of North Texas. This organization works tirelessly to provide care and shelter to these wonderful animals. Donations can be made online at
https://www.texasbostons.com/site/page/donate/.
Marti Thibodeaux will be remembered for her kind heart and unwavering love for her family. May she rest in eternal peace.