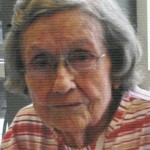 Martha J. Latimer, age 87 passed away September 7, 2014 at Gulf Healthcare Center in Texas City, Texas. She was born April 9, 1927 in Center, Texas.
She was preceded in death by her husband Robert Leon Latimer. She is survived by two children David Latimer and wife Eileen of Bacliff, Texas and Linda Birdwell of Texas City, Texas; two grandchildren Carrie Madden and husband Paul of Texas City, Texas and Lisa Kocourek and husband John of Texas City; and two great grandchildren Chloe Kocourek and Ian Kocourek.
Funeral Service will be on Thursday, September 11, 2014 from 10:00am-11:00am at the James Crowder Funeral Home in La Marque. Burial will follow at Forest Park East Cemetery in Webster, Texas.