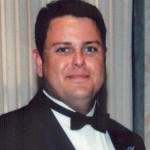 Mark Ashley Yoder, 45, passed away at his home on Tuesday, August 5th after a brief battle with colon cancer.  He was born on February. 23, 1969 in Houston, TX to Donald and Sonya Yoder.  Mark is survived by his mother, Sonya Ashley Yoder, sister, Kristy Yoder Guerra, brother in law, Richard Guerra and numerous other family members and friends.  Mark graduated from Clear Lake high school in 1987 and attended The University of Southwest College. He was a lifelong resident of Clear Lake, spending a short time in San Antonio, College Station, and Lufkin with Outback Steakhouse.  Mark had a 23 year career with Outback Steakhouse.  During this time, he was involved in Rotary, the Chamber of Commerce, and supported countless charitable and children's organizations.  For the last 13 years, he was the Proprietor of the Webster, TX Outback Steakhouse, where he originally started on August 1, 1991.
He is remembered best by his friends and family as an avid golfer, gun enthusiast, sports aficionado, merry maker, and mentor. Mark was a warm, kind, and compassionate man.  He was a mentor and guide to countless people whose lives he quietly touched and transformed.  He always reached out to others in their time of need, putting his friends and family foremost. Mark had a quick wit and dry sense of humor. He was always full of practical jokes and fun.  Mark had a unique ability to be both compassionate and practical in helping others overcome challenging circumstances and then supporting them as they moved forward.  Mark was generous to a fault and lived life to its fullest enjoying every moment.  Family was everything to him and nothing was more important to him than everybody gathering together for the holidays and special occasions.  Some of his favorite times were spent with friends in Vegas, vacations deep sea fishing and playing golf.
Visitation will be held on Friday, August 8, 2014 from 5:00 to 8:00 pm at Crowder Funeral Home, 111 E. Medical Center Blvd Webster, TX 77598.  Funeral Services will be held on Saturday, August 9, 2014 at 2:00 pm at Clear Lake United Methodist Church, 16335 El Camino Real Houston, TX 77062.  Living plants and small trees are appreciated that can be planted in memory of him.