Marion Wynette Byrket Tripp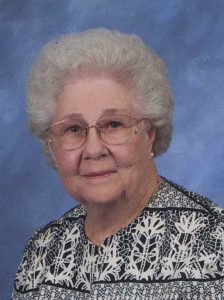 Marion Wynette Byrket Tripp passed away in LaMarque, TX on August 6, 2019. She was born June 30, 1923 to Clint and Ivel Byrket in Seymour, TX, where she grew up and graduated from high school. Wynette and E.W. "Wilbur" Tripp, Jr. were married in November 1941 when they eloped in Oklahoma. She and E.W. moved to Texas City after he was discharged from the army after serving in WWII, when he became employed at Community Public Service.
Wynette, along with Wilbur, and their newborn son, Michael, were all survivors of the Texas City Explosion. In 1952, she began working as a bookkeeper at First State Bank, which later changed its name to Mainland Bank. In 1988, she retired as Senior Vice President of Mainland Bank. Wynette was a people person who helped and touched many lives during her banking career, as well as in her community.
She is preceded in death by her parents, her siblings, Kathryn Bateman and J.C. "Sonny" Byrkett, her husband of 61 years, and her son, Michael.
She is survived by her daughter-in-law, Nancy, her granddaughters, Jennifer (Michael) and Karen (Keith), and 6 great-grandchildren, Adam, Ethan, Zane, Zoey, Jackson, and Julia, as well as many nieces and nephews, all of whom she lovingly spoiled.
Visitation with the family will be from 10-11:30 AM on Friday, August 9, 2019 in the chapel of Crowder Funeral Home, Dickinson, TX. A graveside service will follow at noon at Hayes Grace Memorial Park in Hitchcock, TX. In lieu of flowers, memorials may be made to First Baptist Church of Texas City, 10000 Emmett F Lowry Expy Suite 2000, Texas City, TX 77591, where she was a member for 69 years, or to the charity of your choice.