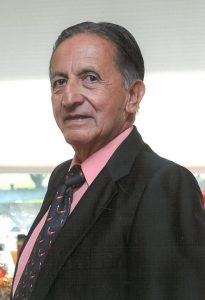 Mario Jimenez Gonzalez, 83, a resident of South Houston, Texas, passed away on October 24, 2023 in Houston, TX.
He was the youngest of 10 siblings and preceded in death by his parents, Tulio and Teresa Gonzalez; sisters: Ruth, Libia, Barbara, and Aura; brothers: Benjamin and Octavio.
Mario leaves behind his wife, Rosa Gonzalez; daughters: Jessica Gonzalez, and Veronica Gonzalez; son in law: Adam Gonzalez; grandchildren: Divina Mitchell, Stormy Gonzalez and Adam Gonzalez Jr. sisters; Ana and Noemi; brother; Nestor Gonzalez.;
He was born in Manizales, Colombia on July 20, 1940 and made the courageous decision to move to the United States on November 22, 1963 to pursue the American dream. He lived in California, Oklahoma and ultimately settled in Texas to build a successful business that he ran for over 40 years.
He worked tirelessly to provide a comfortable and loving home for his family and poured his heart and soul into raising his daughters. His playful nature often involved practical jokes, barbecuing, fishing and spreading joy wherever he went.
During this difficult time, it's essential to remember the full life he lived, the dreams he pursued, and the love he shared. Let us not be sad but grateful for the opportunity to have had him in our lives.  As we gather to celebrate his life and bid him farewell, let us remember his smile, his laughter, and the love he showed us.
A memorial service and rosary will be held Friday, October 27, 2023 at 4:00 p.m. at Crowder Funeral Home, 2422 E. Broadway St. Pearland, TX 77581.