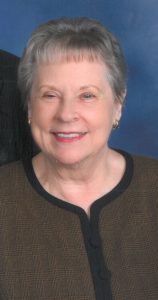 Marilyn Shipman Hackett, 91, a 47+ year resident of Taylor Lake Village, TX, went to her Heavenly rest Saturday, January 21, 2023 in Pearland, TX. She was born January 5, 1932 in Morehouse, MO.
Marilyn's passing reunites with her beloved husband James L. (Jim) Hackett; parents Marion Alvin and Ferol Jane (Holland) Shipman, and brothers Marion Shipman and Charles Shipman.
Marilyn married the love of her life James L. (Jim) Hackett in southeast Missouri in 1954, and their life together took them to live and work in Rolla, MO, East Alton, IL, Cincinnati, OH, Ballwin, MO, and finally to the Taylor Lake Village (Seabrook), TX area (with some time spent living in Rome, Italy). She worked at NASA Johnson Space Center for more than 20 years, and was an active member of University Baptist Church in Clear Lake City, TX (choir, Prime Timers, etc.) since the time church was meeting at a local school. Marilyn's greatest treasures in her life were her family, friends, and church fellowship.
She leaves behind her son, James A. (Jim) Hackett (wife Jeanette); grandchildren: James F. (Jim) Hackett (wife Lindsay), Audrey Hackett, Joe Marcum (wife Marcy), Alex Chan, and Vanessa Chan; great-grandchildren: Emma Marcum, Ellie Marcum, Charlie Hackett, and Dallas Grace Liles; brother-in-law Rev. David R. Hackett (wife Kay); and numerous nieces and nephews.
There will be a service held on Tuesday, January 31, at 11:00 AM at University Baptist Church (Clear Lake City), 16106 Middlebrook Dr, Houston, TX 77059.
In lieu of flowers, the family requests that memorial contributions be made to the Alzheimer's Association. https://act.alz.org