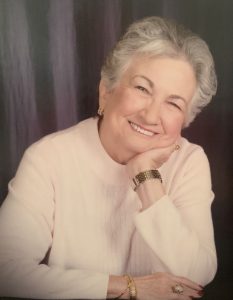 Marilyn Ruth Jackson, 85, a resident of Pearland, TX, formerly of Oklahoma, passed away on April 30, 2023 in Houston, TX. She was born October 8, 1937 in Tulsa, OK. She attended St. Helen Catholic Church.
Marilyn reunites with her husband of 67 years, Dennis Jackson; parents Julius and Nancy Tillery; sisters: Sue Ann Rider, and Roxie Flusche; brother, Dudley Tillery;
She leaves behind her daughter, Denise Baker, husband William; son, John Jackson, wife Lisa; grandchildren: Natasha Patterson, husband Donald, Erica Lydon, husband Patrick, Sophia Wostal, husband Albert, Katie Ross, husband Cameron, Andrea Johnson, husband Jordan, and Will Jackson, wife Taylor; twelve great grandchildren and one great great grandchild; sisters: Peggy Tracy, and Carol Hill, husband Patrick.
Marilyn had many talents working as a bookkeeper, raising her family, directing the household wherever that might be. (Texas, Oklahoma, Kansas, & Saudi Arabia).
She enjoyed life, global travel with her husband, and mostly her family. She was always entertaining, bragging about her kids, grandchildren, great grandchildren – Dawson, Nicole, Jaxson, Luke, Austin, Abigail, Driver, Kate, Novie, Isadore, Callen & Willow, and her first great great grandchild – Colt.
She left us all with many great stories and memories that will make anyone laugh and smile. She will be missed and mentioned often at future family gatherings.
A visitation will be held on Monday, May 8, 2023 from 5- 8 p.m. with a rosary at 7 p.m. at Crowder Funeral Home, 2422 East Broadway St in Pearland. A Memorial Mass on Tuesday, May 9, 2023 will begin at 10 a.m. at St. Helen Catholic Church 2209 Old Alvin Rd in Pearland. Inurnment to follow at Mt. Olivet Cemetery 7801 Gulf Fwy in Dickinson.
In lieu of flowers, please make memorial contributions to a charity of your choice.