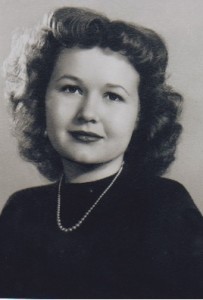 Marilyn Joyce Cheak, age 89 of Nassau Bay, Texas passed away peacefully in the comfort of her own home on November 2, 2015. She was a wonderful, nurturing, kind woman of strong faith who deeply loved her family and friends. Marilyn was born on February 15, 1926 in Brawley, California to Frank and Levenia Miller. Following high school graduation, she attended Long Beach City College where she met her husband Gene. They were married for 62 years and together raised four children. In 1965 the family relocated from California to Westport, Connecticut.  In 1968 they moved again to Nassau Bay, Texas which would be their final home this side of heaven.  In the early years of retirement Marilyn and Gene were grateful for the opportunity to travel the world extensively.  They visited such places as Israel, England, Scotland, China, Australia, New Zealand, Alaska, the Canadian Rockies and Africa.
She loved her church, her life groups and playing ponytail canasta. Marilyn was a passionate quilter that served to keep her creative and active. And active she was… never wanting to miss out on anything.
She had the gift of eternal optimism and always looked at the positive side of all situations.  We always heard her say "it will all work out".  It was one of her most endearing legacies.
She leaves behind her four children, Suzanne Furrow and her husband Artie, Claudia Henderson and her husband Michael, Alan Cheak and his wife Anna-Marie, David Cheak and his wife Brandi. She also leaves behind nine grandchildren, Scott (Colleen), Amy, Ryan (Caroline), Caleb, Sam, Jeff (Courtney), Logan, Chandler, Kylie and five great grandchildren, Kaitlyn, Evelyn, Kai, Jake, Addison and her nephews Jeff and George Marshall, Jack Cheak, and niece, Sandy Marshall. She was preceded in death by her husband Gene in 2009. Funeral Services will be held on Monday, November 9, 2015 at 11:00 am in the chapel of Gloria Dei Lutheran Church located at 18220 Upper Bay Road, Nassau Bay, Texas. Lunch will be served in the Life Center followed by a graveside service at Forest Park East Cemetery.  Funeral arrangements are under the direction of Crowder Funeral Home.