Marilyn Elizabeth Russ Cobb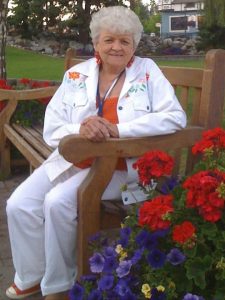 Marilyn Elizabeth Russ Cobb, 91 years old, passed away on July 1st, 2021 in Webster, Texas.  Marilyn was born on January 3rd, 1930 in Teague, Texas to parents, John T. Russ and Myrtle Roberson Russ.  She had: three brothers, John T. (Teeter), Kenneth, and Herbert; and cousin, Jeri, although she was more like her sister in life.  She graduated from Teague High School and soon after married the love of her life, Alvis Ward Cobb Jr, on October 23rd, 1948.  She was a sincerely dedicated housewife and mother to her four children, Paul, Bruce, Teresa and Cathy.  Her favorite pastime later in life was playing Bridge with her many friends and playing Bingo with her family.  She was a member of Friendswood United Methodist Church.
She is preceded in death by her: parents; brothers; cousin, Jeri; husband, "Cobb"; and her first born son, Paul David.  She is survived by: son, Ronald (Bruce) Cobb; daughters, Teresa Warren and Cathy Cobb; daughter-in law, Martha Cobb; six grandchildren, Terah Aultman w/husband, Mark Aultman, Zach Cobb, Paula O'Leary w/husband, Brian O'Leary, Andra Cobb, David Cobb, and Stephanie Warren w/significant other, Derek Bolton; 12 Great Grandchildren, Marilyn, Brandon, Braxton, Talen, Kennedy, Lola, Ruby, Daxton, Zayda, Ava, Emily and Adalyn; and numerous nephews and nieces along with many Friends she truly considered as family
Marilyn's memorial will be held on Saturday, July 10th at 2:00 p.m. at Friendswood United Methodist Church, Wesley Hall, 204 W. Edgewood (FM2351), Friendswood, TX 77546
If you wish to donate in lieu of flowers, donate in her name to her favorite charity "Wounded Warriors".