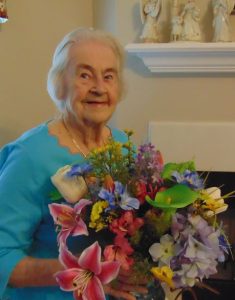 Marietta Bell Pawlik, 100, of Dickinson, Texas passed away at her home on December 17, 2022, surrounded by family.
Her parents, Adah and Jesse met in Indianapolis where he was a 'through freight' conductor on the Nickle Plate rail road and where she owned a restaurant.   They married in 1920 and moved to Peru Indiana to start their life together.
Mother Adah (Murray) Buri (1888-1982), Father Jesse James Bell (1878-1964) along with siblings Cecil (Jack), Miriam Lenora, Tawnee (Lillian) and brother Robert (Bob) Knuten welcomed Marietta in their Peru, Indiana family on August 4, 1922.
Marietta said she had a wonderful life growing up.  She was spoiled with all the attention from the older children and her parents revamped the basement of their house for her to invite high school friends over to play records and dance.
After High School, with her father's encouragement, she completed her nursing degree from Englewood Hospital School of Nursing in 1945.  She was devoted to her father and was inconsolable upon his death.  After graduation she found a position working in the polio ward of John Sealy Hospital in Galveston Texas.  Although she had a tiring week, a nursing friend encouraged her to attend a party where she met Chester Pawlik – her future husband.   Marietta also worked as a private nurse and an industrial nurse for Union Carbide Chemical Company in Texas City before retirement.
Chester Louis was the eldest of 7 sons and 2 daughters of John D. Pawlik (1899-1973) and Florence Urbanczyk (1902 – 1993) who were farmers in McAllen Texas.  He attended Texas A&M University when WW II interrupted his studies.  After serving in the U.S. Navy in the Philippines, he returned and graduated with a degree in Civil engineering.  He accepted a position with the Galveston Army Corps of Engineers where he retired after 28 years of service.
Soon Marietta and Chester added Robert James, John Stephen and Edward Louis into their family – three mischievous boys who enjoyed their country home – playing in the streams, riding bicycles through the woods and shooting their BB guns.   They had a good life.
After her parents passed, Marietta and husband Chester spent long lazy summers at her mother's old home in Peru Indiana where they enjoyed the milder weather.  She kept busy tending to the flowers, visiting famers markets and canning salsa, pickles and fresh vegetables for her family and friends.
Marietta enjoyed nature, caring for her flowers and planting large summer gardens.  She was proud to be the President of the Garden Club in Humble Texas.
Marietta and her husband Chester leave behind the families of her 3 sons:
– Bob and Billye Meyer (deceased), sons Lance, Richard (Tammy Champagne) and their children Eli and Carson.
– John and Rhonda Riley
– Ed and Robin Lamb, daughter Jennifer (David Peel) and their daughter Blayke; son Bryan (Sue Robinson) and their children Graham and Evelyn.
Visitation at Crowder Funeral Home in Dickinson will be from 5:00 to 7:00 pm on Wednesday December 28, 2022 with a Rosary starting at 7:00 pm.  A funeral mass will be celebrated at 12 noon on Thursday, December 29, 2022, Shrine of the True Cross Catholic Church celebrated by Father Larry Wilson.  Interment follows at Mt. Olivet Catholic Cemetery Dickinson.
Pallbearers are Bryan Pawlik, Lance Pawlik, Richard Pawlik, David Peel, Bobby Crowson and Bob Peel.
In lieu of flowers, donations can be made to Enhabit Hospice of South Houston or the Shrine of the True Cross Catholic Church in Dickinson Texas.