Marie Antoinette "Nan" Smith (Robinson)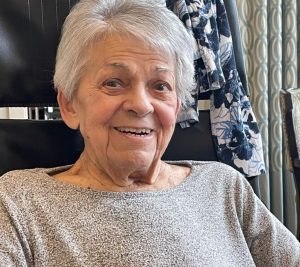 Marie Antoinette "Nan" Smith (Robinson), of League City, Texas, passed away on Friday, April 7, 2023, at the age of 91.  She was the devoted and loving wife of the late Charles P. "Chuck" Smith, who passed away in 2022.
Nan was born on March 24, 1932, in Buffalo, New York, to Thomas and Antonia Robinson (Jurca).  After Antonia's untimely death during child-birth, she was raised by her father and mother, Dorothy Robinson (Gilmartin).
Nan grew up in Buffalo's First Ward with her ten siblings and many cousins where she met her husband of 68 years, Chuck, in grammar school.  Nan's first job after she graduated from Bishop Quigley High School was at Bethlehem Steel.  She later worked for the Orchard Park Central School District, and was a poll worker for numerous elections.  Nan and Chuck were married on August 15, 1953 and initially resided in Alexandria, Virginia, where Chuck was stationed while serving in the US Army, before returning to South Buffalo to start their family.
Nan, Chuck and their four children later moved to Orchard Park, New York, where they were residents from 1965 – 1996 and faithful parishioners of Nativity of Our Lord Catholic Church.  They enjoyed their summers at Snyder Beach in Angola, and eventually became winter residents of Alamo, Texas.  Their final move was to The Crossings Retirement Community in League City, Texas to be near their daughter.
Nan was known by all as a joyful, smiling, energetic, and giving person. She showered love on everyone in her presence, and she knew when a situation called for some of her patented feistiness.  Nan was very family-oriented, and grew to be the loving matriarch of her large extended family.  She loved to cook, putting together meals at a moment's notice when visitors stopped by.  She attended hundreds of recitals, plays and sporting events where she enjoyed cheering on her husband, children, grandchildren, and dozens of nieces, nephews, and godchildren.
Nan and Chuck loved to travel, often visiting family and old friends.  Together, they visited almost every US state as well as Canada, Mexico and multiple countries in Europe and the Caribbean.
Nan was preceded in death by her husband, parents, sisters Barbara Robinson, Patricia Grande, Ellen Booker, and brothers James, Robert, John, and William Robinson.
Nan is survived by daughter Nan (Frank) Turner; sons John "Jack" (Pat) Smith, Daniel (Tamara) Smith, Kerry (Lisa) Smith; brothers Edward, Thomas, and Richard Robinson; grandchildren Ryan Mast, Conner, Cassidy, Brody, Ian, and Sara Smith, Francesca Turner, Jason Humphrey, and Mackenzie Perez; great-grandchildren Cayman and Cullen Mast; and many other loving family and friends.
The family will receive friends on Saturday, April 15, 2023 at 2:15 pm with a funeral service at 3 o'clock at Crowder Funeral Home, 1645 East Main St., League City, Texas with Father Dominic Pistone presiding.  The family will also be holding a memorial service in Buffalo in July.
In lieu of Flowers, donations can be sent to: