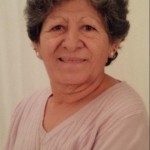 Maria Del Carmen Zavala, 69, of League City, TX passed away July 17, 2014 in Webster, TX. She was born July 16, 1945 to David and Epifania Borjas, Sr. Carmen was preceded in death by her parents, her husband, Pascual Zavala and son, Jose Trevino.
She is survived by her daughters, Estrella Castro and her husband, Jose, Maria Rodriguez, Alicia Flores, and Elva Trevino; son, Pedro Trevino and his wife, Wendy; sister, Ruth De Los Santos and her husband, Robert; brothers, David Borjas and Francisco Borjas, Sr.; ten grandchildren and four great grandchildren.
A visitation in her honor will be held Tuesday, July 22, 2014 from 5:00 pm to 8:00 pm, with funeral services Wednesday, July 23, 2014 at 11:00 am at Crowder Funeral Home Chapel, Dickinson, TX. Interment will follow at Forest Park East Cemetery, Webster, TX.