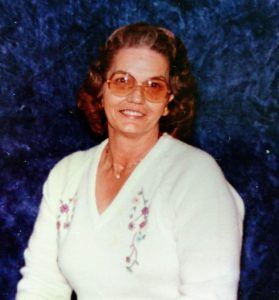 Margie Ruth Rehm passed away at Mainland Center Hospital in Texas City, TX on Thursday, November, 24 2016 at the age of 85.
Margie is survived by her 3 sons, daughter and son in law; Ronnie Rehm of Caldwell, Tx, Gary Rehm of League City, Rory Rehm of La Marque, and Mandie Amelia and Jeffrey Kleist of League City. Also  nine grandchildren; Michelle Haas, Lee Ann Rehm, Trisha Rehm-Garza, Kristopher Rehm, Rory Rehm Jr., Kristen Nicole Guzman, Matthew Testa Jr., Aniston and Jenna Kleist, several great-grandchildren and 1 great-great grand baby. She is preceded in death by her husband Sonny Rehm; son, James Edwin Rehm; daughter Sunnie Ann Rehm Robisheaux and daughter in law Sandy Rehm.
Margie was born on June 29, 1931 in DeQuincy, LA to Alvin and Alma Amelia Menard. She married the love of her life William "Sonny" H. Rehm III in 1948. After living in Galveston for several years they settled into La Marque with their children where she continued to live for the past 50 years. She worked many years at Leo's Drive-In in La Marque and in later years Gaido's Restaurant in Galveston, Tx.
Margie was an accomplished gardener who loved to spend time in her yard admiring her many plants and flowers. She loved spending time with her family and cheering on her grandchildren & great-grandchildren during their many activities. One of her favorite past times was listening to live music especially PeeWee Bowen.
Visitation with family and friends will be from 5:00 – 7:00 p.m. Tuesday, November 29, 2016 and funeral services will be 10:00 a.m. Wednesday, November 30, 2016 at James Crowder Funeral Home in La Marque with Johnny Peden, officiating the ceremony. Interment to follow at Grace Memorial Park in Hitchcock, Tx. Pallbearers will be Jeffrey Kleist, Matthew Testa Jr., Eric Garza, Johnnie Guzman, Adam Bell and Reynaldo Herrera Jr. A reception will follow at Texas Pit Stop BBQ in La Marque, TX.