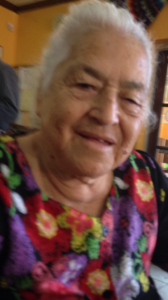 Margarita Chavez, 80, of Kemah, TX, passed away December 12, 2014 in Webster, TX surrounded by her family. Margarita was born March 10, 1934 to Miguel and Valentina Castanon in Durango, Mexico. She was preceded in death by her parents.
She is survived by her loving husband, Manuel Chavez; daughters, Martha Hinojosa (Juan), Dolores Chavez (Gilberto Lara), and Maria Luisa Baena (Jose); sons, Miguel Chavez (Rosario), Manuel Chavez (Juliana), Juan Manuel Chavez (Martha), and Arturo Chavez (Rosalinda); brother, Esiquio Castanon; twenty-eight grandchildren, forty-four great grandchildren, and one great great grandchild.
A wake will be held in her honor at the family home, 75 w. 7th Street, Kemah, TX, Sunday, December 14, 2014 and Monday, December 15, 2014, beginning at 11:00 am Sunday. Funeral Mass will be celebrated Tuesday, December 16, 2014, 10:30 am, Shrine of the True Cross Catholic Church, Dickinson, Texas with interment following at Mt. Olivet Catholic Cemetery, Dickinson, Texas. Arrangements through Crowder Funeral Home, Dickinson, Texas.
Honored to serve as pall bearers are Miguel Chavez, Manuel Chavez, Juan Manuel Chavez, Arturo Chavez, Juan Hinojosa, Jr., and Gilberto Lara.