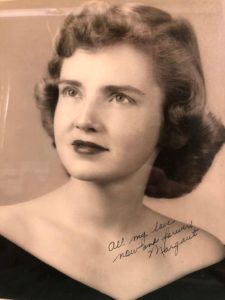 Margaret Mae Ward, 88 years old, passed away on February 19, 2022 in Houston TX. She was born on March 17, 1933, in Campo CO to Jesse William Buchanan and Opal Buchanan.
Margaret is survived by her children, Liz Fike (Byron Fike) of Houston, TX, Jim Ward (Deana Ward) of Poplar Bluff, MO, Bill Ward (Hermette Ward) of Houston, TX, and Joe Ward (Carla Ward) of Memphis, TN. Three sisters, Mildred Cox of Shreveport, LA, Esther Ruth Harrison of Valdosta, GA, and Lona Ann Shirley of West Lake, LA. Eleven grandchildren Jeremy Ward Fike, (Adrienne Fike), Benjamin Lee Fike, (Laura Fike), Elizabeth Eve Arizpe (Jaime Arizpe), Kevin Ward, (Jordan Ward), Julia Dell (Adam Dell), Bella Ward, Jesse William Ward, Jacob Monroe Ward (Aryn Ward), Jarrett Glenn Ward (Brittany Taraba), Brandon Ward (Kylee Ward), and Jackson Ward (Brooke Ward). Ten great grandchildren Laurel Fike, Juliana Fike, Elliott Fike, Nathaniel Fike, Samuel Fike, Mateo Arizpe, Catalina Arizpe, Liliana Arizpe, Jaycee Ward, Jaxton Ward, Joshua Ward, Journey Ward, Campbell Ward, and Kaleb Ward and numerous nieces, nephews, cousins, family members and friends.
Margaret was preceded in death by her brothers: Charles Elmer Buchanan (Joy Buchanan) and Kermit Lee Buchanan.
Margaret earned a BBA in education from Harding College in 1956. She worked as an elementary teacher for Ferguson/Florissant School District in St. Louis, Missouri for nearly 50 years. She received her Master in Education from Maryville University.  Margaret was a member of the Florissant Church of Christ, a board member for Christian Family Services, worked with a homeless ministry called Room at the Inn, put in many hours cooking and teaching at Camp Ne-O-Tez, a summer camp for children. She taught countless Bible classes for women and children of all ages. In her early retirement years, she taught at the Christian Academy of Greater St. Louis. Teaching was not only her profession, but it was also her life's passion. In 2012 she moved to Houston, Texas and began attending the Clear Lake Church of Christ. Throughout her lifetime, she modeled daily a life that sought to follow Jesus.
A memorial will be held on Saturday, March 5th at 2:00 pm at Clearlake Church of Christ, 938 El Dorado Blvd, Houston, TX 77062. In lieu of flowers those wishing to make a memorial donation in Margaret's memory may do so to Christian Family Services, 7955 Big Bend Blvd, Webster Groves, MO 63119.