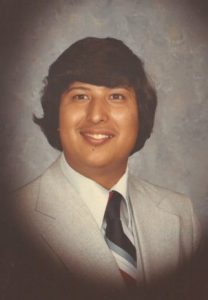 Manuel Rodriguez, 59 of Texas City, passed away August 30, 2017, at Bayou Pines Medical Facility in La Marque, Texas.  Manuel Rodriguez was born May 24, 1958 in Houston, Texas.  He was a Heavy Equipment Operator for Valero in Texas City for 24 years. He was a resident of Texas City, since 1971.  He graduated from La Marque, High School in 1977.  He was a regular attender of the La Marque Cougars football games and enjoyed sports in the community.  He was also a fan of Texas Longhorn Football and member of the Longhorn foundation.  He was a member of Queen of Peace Catholic Church.
Manuel will be sadly missed by his sister Teresa Rodriguez Cathcart and her husband Robert Cathcart of Spring Branch, Texas, two nephews David Cathcart and his wife Stephanie Cathcart of Augusta, GA, and Nathaniel Cathcart of Spring Branch, Texas; a niece, Elizabeth Cathcart of Wichita Falls, Texas.  He had a great nephew Cyrus Cathcart and a great niece Vivian June Cathcart of Augusta, Ga.
He was preceded in death by his parents Marvin and Jacinta Rodriguez of Texas City.
Manuel will also be sadly missed by his many friends and neighbors.
Pallbearers will be Patrick Nickerson, Zenon Quintela, Miguel Castro, Kendre Phillips, James Britton, James "Chico" Garcia, Rodrigo Martinez Jr and Jack Chichester.
A Rosary will be on Tuesday, September 5, 2017 at 6:00PM with a visitation to follow till 8:30PM at the Queen of Peace Catholic Church in La Marque.  A Funeral Mass will be held on Wednesday, September 6, 2017 at 10:00AM at Queen of Peace Catholic Church with entombment to follow at Mt. Olivet Catholic Cemetery in Dickinson.
In lieu of flowers the family requests donations be made to St. Jude Children's Research Hospital.