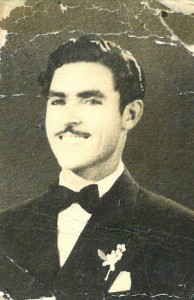 Manuel Gonzales, 95, of Texas City, passed away Sunday, September 6, 2015, at his residence. He was born September 3, 1920, in Bryan, Texas, to Fransico and Demetria Gonzales. Manuel served in the United States Army during WWII in the European theater and was a POW. He lived most of his life in Galveston County and the last forty years in Texas City. He was married to the love of his life Juana. His family meant the world to him and his happiest moments were spent with his family, especially the grandchildren and great grandchildren. He would give the shirt off his back to anyone who needed. He was also known as grampa to all the neighborhood kids.
Manuel was preceded in death by his parents; one son: Eugenio Serrano; seven sisters: Romanita Ramos, Laurencia Elizondo, Pila Menchaca, Santos Serna, Henrietta De Los Santos, Beverly Peavy and Juanita "Janie" Leyva; three brothers: Ramon Gonzales, Gabriel Gonzales, Santiago Gonzales.
Manuel is survived by his wife: Juana Gonzales; two daughters: Rachel Ruiz and husband Arthur, and Idalia Serrano; one son: Jesse Villarreal; three sisters: Petra Balli, Victoria Flores, and Catalina Harness; eleven grandchildren: Tabitha Santos and husband Roberto, Angel Martinez and husband Jaime, Arthur G. Ruiz, Angela Villarreal and husband Chris, Amanda Villarreal and husband Shane, Alissa Villarreal, JJ Villarreal, Destiny Villarreal, Felicidad Serrano, Elionardo Vergara and Itzel Serrano; and seventeen great grandchildren.
The visitation will be held from 5:00pm to 8:00pm Wednesday, September 9, 2015, at James Crowder Funeral Home, La Marque, with a Vigil Service at 7:00pm. The funeral service will be held at 10:00 am, Thursday, September 10, 2015, at the funeral home with Deacon Joe Hensley officiating. Interment will follow at Forest Park East Cemetery, Webster, Texas.
Pallbearers will be Arthur Ruiz, Arthur G. Ruiz, Jaime Martinez, Jesse Villarreal, Frank Leyva, and Felipe Leyva. Honorary Pallbearers will be George Angel Urbina and Christian Martinez. Special thanks to St. Joseph Hospice Team (Greg, Angela, Gillian, and Richard) for taking such good care of him.