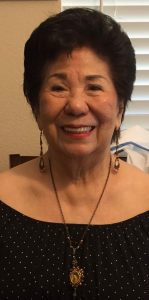 On Saturday, August 10, 2019, Mally Abad Santos Dizon, loving wife and mother, passed away peacefully at the age of 86.  Mally was born on November 30, 1932, in the town of Capas in the Tarlac province of the Philippines to Manuel and Leonarda Abad Santos.  She grew up in Angeles City and finished her studies at Holy Angel Academy. 
Mally deeply loved her family and nothing brought her more joy than raising her children (Elizabeth Tongol, Joe Vic Wong, Ana Mei Suarez, Joe Cris Wong), grandchildren, and great-grandchildren.  She had a gift for nurturing each of their individual talents and instilling the skills and values to set each up for success in life.  Among her most important lessons that has endured through generations is love and respect for family.  She taught us that family, especially our siblings, should be our best friends and secret buddies.  Her family values and spirit live on in all of us.
Mally led by example with her work ethic, and she expected the same from all of her family.  She kept us all busy with her assigned "duties," from keeping the house tidy to typing exercises and helping in the kitchen.  She ensured that dinnertime was family-time, a time to nourish people's bodies and souls by sharing life's experiences and lessons.  She showed us what determination, persistence, and wisely managing one's resources, even if sometimes limited, could produce.  She took immense pride in her family and their achievements, so many of which can be traced back to her positive influence.    
Mally was preceded in death by her loving parents Manuel and Leonarda. She is survived by her husband, Antonio Dizon, her four children, and their father, Jose Wong. She will be joining her siblings Manuel Abad Santos Junior, Holanda Evangelista, Irineo Abad Santos, Manolita Dayrit, Antonio Abad Santos, Pedro Abad Santos, and Rafael Abad Santos. 
Her grandchildren and (great grandchildren) from Liz Tongol are Franzel (Alex & Sabrina), Francis (Wensdei, Sarah & Ena), James (Lukas), and Melissa (James); from Joe Vic Wong are Charlene (Emmie & Maya) and Jason (Jackson); from Ana Mei Suarez are Dulcenea (Sofia, Analia & Maximo) and Aris; and from Joe Cris Wong are Ena, Felicia & Phillip. Her step-children and grandchildren are Dean (Desiree, Travis, Trevor); Scott (Sophia, Kieran, Celia); and Tami (Emma Grace, Mary Claire, Lilly Ann).
A funeral service starts with the viewing at 1:00 PM and the memorial services at 2:00 PM on Sunday, August 11, 2019, at the Crowder Funeral Home, 2422 East Broadway Street in Pearland, Texas.
We will always carry your memory in our hearts.