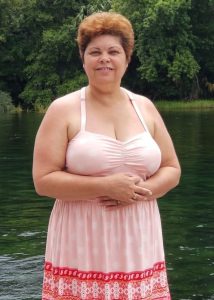 Madeline Andaluz Quezada, 57, of Bacliff, Texas, passed on February 28,2023.
Madeline was born February 4,1966 in Puerto Rico to the parents Raphael Andaluz and Lucy (Serrano) Andaluz.
She is preceded in death by (Avril Rose Gomez) granddaughter.
She leaves behind to cherish her memory, her loving and devoted husband, Alejandro Quezada her children Sandra Quezada Ramírez husband Elio Ramírez, Sonia Quezada Calderon husband Santos Daniel Calderon, Alejandra Quezada and Edelmira Quezada.
Grand Kids Jessica Quezada, Samantha Quezada ,Jimmy Gómez, Lexin Cumby, Priscilla Quezada, Madeline Mariah Quezada, Selma Calderon, Jaylean Ruppert, Alejandro JR Quezada, Carmelo Quezada,Elio Ramírez, Mattie Ramírez, Michael Nowlin, Sheena Nowlin, Renesmee Quezada, Mason Mata, Elena Mata, Isabella Mata, Romeo Del Cruz, Layla Del Cruz, Royalty Thomas, Navy-May Avril Quezada.