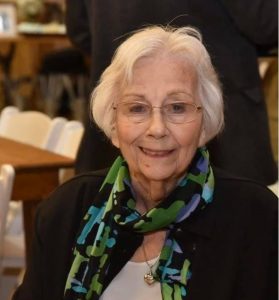 Maclyn Stevenson Kirk, 90, passed away on January 8, 2020 in League City, TX. She was a long time resident of Clear Lake. She was a preschool teacher for many years. She was born on March 20, 1929 in Austin, TX to Homer and Lucille Stevenson.
Maclyn is preceded in death by her husband, Harry Donald Kirk. She is survived by her daughter, Kathleen Kirk Cordell and her husband Jerry Cordell; son, Steven Donald Kirk. Maclyn is also survived by her brother, Donald Stevenson. Maclyn leaves behind her grandchildren, Justin Cordell, Heather Kramer and husband Charles, Amanda Corgey and husband Arthur, and Trevor Kirk and wife Shelby; as well as great grandchildren Brynlee Kramer, Brayton Corgey, Paxton Corgey and Keaton Corgey. She is also survived by her daughter-in-law, Karen Kirk. She is also survived by numerous family members and friends.
In lieu of flowers, those wishing to make a memorial donation in Maclyn's memory may do so to Reading is Fundamental, 750 First Street, NE Suite 920, Washington, DC 20002.
Maclyn will be buried in the mountains of North Carolina with her husband as well as her parents and her grandmother.