Lynn Louise Schaumburg Collins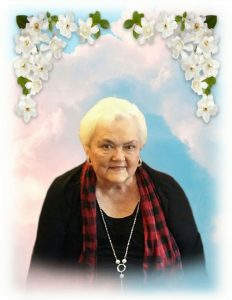 Lynn Louise Schaumburg Collins (79) of League City, TX went home to be with her Lord on Saturday, February 9, 2019 at 12:00PM.  She was surrounded by her family and is now at peace.
Lynn was born on December 5, 1939 in New Orleans, LA to Margaret and Edward Schaumburg.  She was the oldest of 4 children and the oldest grandchild. As the first-born she grew to be the Matriarch of the Shepherd-Schaumburg-Collins Family. Family was the most important thing to Lynn. She Married the Love of her Life, Michael A, Collins Jr. on January 27, 1959 and was happily married for 60 years.      They had 5 children, 9 Grandchildren, and 2 Great-Grandchildren. She was a devoted wife, loving and caring mother and a devout Catholic. She bestowed unconditional love on her children and grandchildren and taught them the life-lessons she learned at their beloved playground, Bunny Friend Park.
Lynn excelled in sports, academics and school government. She was revered as the Queen of Bunny Friend Park where she was the Ping-Pong Champion and Beauty Queen. She competed in several sports and won New Orleans City Championships representing Bunny Friend Park and the CYO. Lynn even met the Love of Her Life for the first time at the park and their love story was sealed with a kiss after a King Cake Party. She Graduated Francis T. Nicholls High School in 1958 as the President of her Class and the Head Majorette of the Fighting Rebels Band. She marched in Mardi Gras Parades and performed at The Sugar Bowl.
Lynn became a Certified Respiratory Therapist and then later was the Manager of Coordination of the Payload Specialists at NASA. She traveled the world from the Eiffel Tower to the Sultan's Palace and at every Space Shuttle launch with her Payload Specialists. But Lynn's greatest achievement was her family. And everyone she loved, she treated and included as family. Lynn loved, and was loved and will be Missed….
She is survived by: Her husband: Michael Ashton Collins JR. Her children: Michael Ashton Collins III (Lynn), Margaret Alice Collins Radvansky (Fred) and Sean Patrick Collins (Cindy),  Her grandchildren: Shauna Collins Harvey (Zack), Michael Ashton Collins IV (Lauren), Katy Balynda Collins, Cole Charles Collins, Ashton Fredric Collins Radvansky, Zachary Ryan Collins, Mackenzie Alyssa Collins and Her great grandchildren: Harris Michael Harvey and Collins Claire Harvey , Her Siblings: Edward Schaumburg (Linda), Susan Barrios (Don), and Debra Truxillo (Tommy)  And many nieces, nephews, cousins and friends we all loved her and will miss her deeply.
She is predeceased in Death by her daughters: Colleen Collins (1964) and Melynda Collins Tschappitt and her two grandchildren: Bailey and Logan Tschappitt
Funeral Mass will be held at 10:30am Friday, February 15, 2019 at St. Mary' Catholic Church, 1612 E. Walker Street, League City Texas 77573.
Reception following Funeral Mass in Cargill Hall
Interment at Mount Olivet Cemetery in Dickinson, Texas.