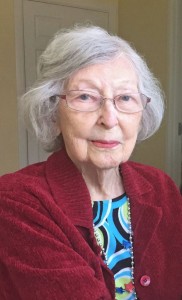 Lynell Irwin Heinemann departed this life on June 25, 2015, rejoining her beloved husband of 73 years, Fred Frank Daniel, who passed away December 8, 2014. She left the world peacefully, surrounded by her loved ones, including the remarkable woman who over the last 10 months became her deeply trusted and beloved friend and companion, Sandra Williams (and who Lynell affectionately referred to as "Lady").
Lynell was born February 4, 1925, in Kilgore, Texas, to Clarence and Barzella Ott Irwin. She had a happy childhood, growing up on her family's cotton farm as the much-loved youngest of 7. While attending business school in 1941, at the tender age of 16, she met Fred Heinemann; they eloped 3 weeks later.
Lynell ("Mammaw" to her family and loved ones) was truly a beautiful woman both inside and out. She was kind, clever, funny, and smart as a whip. She was patient, generous, tender-hearted, and unfailingly gracious to all who met her. She loved her family with all of her heart, and was truly the most wonderful wife, mother, grandmother, and great-grandmother to us all.
Lynell's talents and passions are practically too numerous to mention. She was an avid gardener, a skilled artist, and an amazing cook. She loved crafts and sewing, loved to decorate and entertain, and never met a crossword puzzle, word jumble, or cryptogram she couldn't conquer. She was an ardent animal-lover. One of her greatest joys in life was the love and companionship she shared with her many dogs over the years. She was an active participant in many of her husband's endeavors, and particularly supported his decades of work with the Shriners; in the 1970's she wrote, produced, and acted in a play that was performed all across Texas as a fund raiser for the El Mina Women's Shrine Auxiliary.
Lynell and Fred traveled all over the world (visiting Japan, Europe, the Greek islands – even riding camels in Egypt), took cross-country motorcycle trips with their Shrine group, and until recently, traveled the U.S. from coast-to-coast in their RV.
Lynell is survived by her daughter Nancy Heinemann and her partner Mary Lu Graham, of San Rafael, CA., daughter Bambi Oshel and her husband Larry, of Texas City, granddaughter Laura Myhovich and her husband Darren, of San Diego, CA., and great-grandson Evan Myhovich. She is also survived by her beloved Boston terrier, Martin. She was preceded in death by her grandson Brian Lee Oshel, and by her husband Fred.
The family would like to acknowledge the exceptional care Lynell received from the Right at Home health care agency, especially from her caregivers Sandra Williams and Olivia Williams.
We also wish to acknowledge the nursing staff at A-Med Community Hospice, including nurses Cheryl Wilson and Imogene Mouton, and also Case Manager Diana Haardt, RN, who through her deep compassion and unfailing intuition offered Lynell and her family comfort and guidance through her final illness.
Pallbearers are Charles Hutchins, Patrick Hutchins, Darren Myhovich, Larry Oshel, Kenny Robinson, and David Vasichko.
Donations in Lynell's name may be made to A-Med Community Hospice, 8901 E.F. Lowry Expressway, Suite B, Texas City, TX, 77591 (409-935-0169), or to South Side Street Dogs, P.O. Box 331460, Houston, Tx, 77233.
A visitation will be Monday, June 29, 2015 from 5:00pm –7:00pm at the James Crowder Funeral Home in La Marque. Funeral Service will be on Tuesday, June 30, 2015 at 11:00am at the James Crowder Funeral Home with Rev. Mike Selzer officiating.  Burial will follow at Galveston Memorial Park in Hitchcock, Texas.