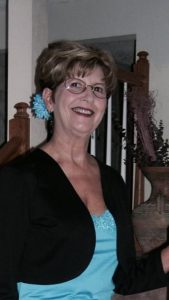 Lynda Kay Cox, 73, life was defined by and emitted four remarkable qualities—immeasurable love, determination, strength, and perseverance. In short, hers was a life well lived.
Lynda was born September 22, 1944, in Lufkin, Texas to Gordan and Erlene Clegg. The family moved to Angleton, Texas where she grew up and attended Angleton High School. After graduation, Lynda attended the University of Houston-Clear Lake, earning a Bachelor of Science in Psychology.
With a passion and commitment to helping others, Lynda joined and tirelessly served her community while employed by the Bay Area Council on Drugs and Alcohol. Later, she joined the USA space company as a tech writer. With a thriving career at hand, Lynda added something new in 1979—a lifetime partnership with husband, Ron Cox.
Lynda was called home on October 6, 2017, after a courageous year-long battle with ALS, also known as Lou Gehrig's disease. A battle in which she never questioned nor complained. She faced the tremendous battle with enduring strength.
She leaves behind her husband of thirty-eight years, Ron Cox. Her son, Jason Blaylock and wife Angela. Step-daughter Cathi Vann and late husband Mickey Vann, step-son Anson Cox, and step-daughter Tina Smith and husband, Russell. She leaves behind sister, Judy Peltier, her step-mother Evelyn Clegg, and half-siblings Jimmy Clegg, Jeannette Brown, Shelly Pelton, Lloyd Clegg and their spouses. Lynda was the proud grandmother of six grandchildren: Todd Vann, Chelsea Gumm, Tyler Smith, Bella, Brody, and Bailey Blaylock. She was also the great-grandmother to five: Delaney, Madison, Emma, Chappell, and Lily. She leaves behind aunts, uncles, cousins, extended family, and too many friends to name.
Lynda was an active and contributing member of the Daughters of the Republic of Texas and Daughters of the American Revolution, as well as, the Bay Area Genealogical Society.
The family will receive friends on Tuesday, October 10, 2017 from 6 – 8 p.m. at the Crowder Funeral Home in League City. A celebration of life will follow on Wednesday at 2 p.m. at Crowder's. Burial is to follow at Forest Park Cemetery in Webster, Texas. In lieu of flowers, gifts of tribute can be made to the Lynda Cox Memorial Fund benefiting the Texas chapter of the ALS Association through the ALS.org website, search Lynda Cox. These donations will aid in research, health care, and support of people who are affected by this exceptionally rare disease.