LYMAN "Duke, Bear" DUPLANTIS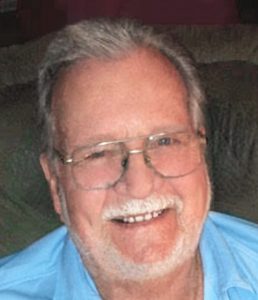 THE VERY BEST FRIEND TO EVERYONE – unless he wasn't.  When asked who he is, he would respond, "The guy who will do something about it".  Lyman was a fierce competitor who loved the outdoors, negotiating car deals, and long conversations with his (mostly men) friends over red plastic cups filled with Chivas and splashes of water.
Lyman was born in Houston, Texas on March 29, 1932 to Leo and Lydia.  After graduating from Saint Thomas, where he learned to box "because he was the only Frenchmen in the middle of all those Italians", he signed up for the Navy and earned his Dolphins as a Submariner.  He loved to recall those moments and felt that the men who served with him on the U.S.S. Runner were special and a cut above the rest.  He never lost those friendships and continued telling the stories until his death.  Lyman was a patriot who loved the United States. He always stood for the flag, with his pants up to his waist and his hand over his heart, in honor of a country he cherished dearly.
After his time in the service, his father encouraged  made Lyman go to school to be an architect.  Since Lyman's favorite tool was a hammer that didn't work out so well.  One day he wandered on to a car lot and it was love at first smell of Ethyl Gasoline.  He quickly caught on and before you knew it he was knee deep into Management at Frizzell Pontiac, where the myths and the deals truly began.  This would also be where he would eventually meet the woman who would somehow contain him for the next 50 years, Camilla.
Cam and Lyman were a fun, good looking couple in their day – fast cars, wild kids, and just enough property to keep the cops from being called for noise disturbances.  Of course, there were hard times combining the family too, but he loved and gave generously to everyone.  Christmas was the best.  He and Cam would throw big parties and always had a white tree with too many presents to count.  Everyone got something, and at the end of his life he gave away more than he kept – except for his beloved pecan trees, which he planted, grafted and cared for.  There will always be a pecan orchard in Santa Fe, Texas, compliments of the white-bearded grandpa on the green tractor.
Lyman loved being around people.  He loved watching the cars come up Tower Road, from his perfectly positioned lift chair next to the street window, hoping for a visitor – but only if the game wasn't on, because the TV would be so loud you couldn't communicate anyway.  On Friday, October 20th one of his last sentences was, "Look! The Astros are going to the Pennant…they will win the World Series!"
By God, since they won Lyman will surely want something for his negotiating skills with The Man.  I'm sure we will all get a piece of the mincemeat pie.
Lyman is preceded in death by his wife Camilla, parents Leo and Lydia, sisters: Amy, Leo-Mae and Patricia; daughter Kristi Sulak, and many of his friends.
He leaves behind his daughter Kandi J. Duplantis and her partner Tracy McCutchin, His soul-daughters Traci Fonville and Mary Doetterl, his brother since the age of 3, Richard Stroud, a slew of other children, grand, great and great-great grandchildren including:  Linda Fonville, Jim & Brenda Fonville, Kim & Barbara Fonville, Jamie Thorpe, Nathan Thorpe, Natalee Thorpe, Jeanie & Scott Helpenstell and the Helpenstell tribe (Kaity, Mike, Tim, J.C. & Maddie), Shelly & Greg Matthews, Adrienne Fonville, J.J. Fonville, Kimberly Fonville, Brandon Mann, Dalton & Ashley Jones, Michael Fonville, Elizabeth "Lizzy" Fonville,  Clayton Traylor, Brynn Traylor & Jaxon Jones, and one on the way.
The memorial will be held at 11am on Saturday, November 4, 2017 at Crowder Funeral Home in Pearland, TX located at 2422 East Broadway; the services will be officiated by Pastor Robert L. Stephens.
A special 'Thank You' to Colonial Oaks of Pearland for loving and caring for Lyman & Cam during their twilight years.
nearby lunch destination will be announced at the Memorial.